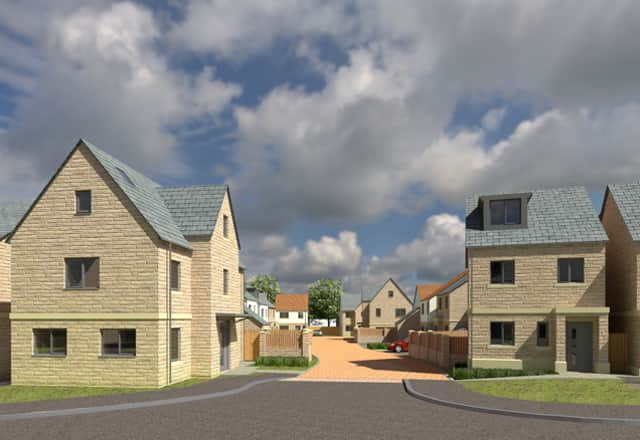 A total of 60 new high quality family homes on Castle Road in Whitby have been given the go-ahead by Scarborough Borough Council, following the unanimous approval of two planning applications submitted by York-based developer S Harrison.
Located on the western edge of the popular seaside town, the successful reserved matters application for 46 homes, and planning application for an additional 14 homes on the former Sneaton Castle Farm site, clears the way for work to start next year. All of the land was formerly owned by the Order of the Holy Paraclete, who are based at Sneaton Castle.
The development will be named 'Castle Fields' and it will include a number of two and three bedroom bungalows, as well as three, four and five bedroom detached, high quality family homes that will all benefit from an exceptional, high-end specification and generous gardens, Many of the homes will benefit from outstanding views of Sneaton Castle and beyond to the famously beautiful Esk Valley.
Artist impression of the Castle Fields development in Whitby.
Work will start on site by summer 2018, with the first homes released for sale in early 2019. S Harrison's managing director, Ann Scott, said: "These high quality and well-designed homes will all benefit from a stunning location to the north of the High Stakesby development which is currently underway. It's a sustainable location, accessed from a new spine road which we are creating between Castle Road and High Stakesby Road, and it's also close to all Whitby's amenities, train station and bus routes.
"The vast majority of properties will have garages and all of the homes will have parking for at least two cars. As well as the lovely location and views, we will be retaining the historic boundary walls of Sneaton Castle to the northern and eastern edges of the development."
Some of the style of home which will be available at the Castle Fields development in Whitby.
Architect, Mark Henderson, from Brewster Bye Architects, said: "We took a contemporary approach to the design whilst retaining the best elements of traditional housing that will include a wide range of modern features. We have used a material palette that is responsive to the site's local environment and there will also be a range of additional options, offering premium variations on the standard house type, which will allow buyers to specify certain elements of their home and really put their own stamp on them."
Ann added : "We will be providing a wide choice of homes within Castle Fields that meet both the identified and future housing needs of Whitby. The homes will no doubt appeal to local families and older people wanting to live in this desirable area."