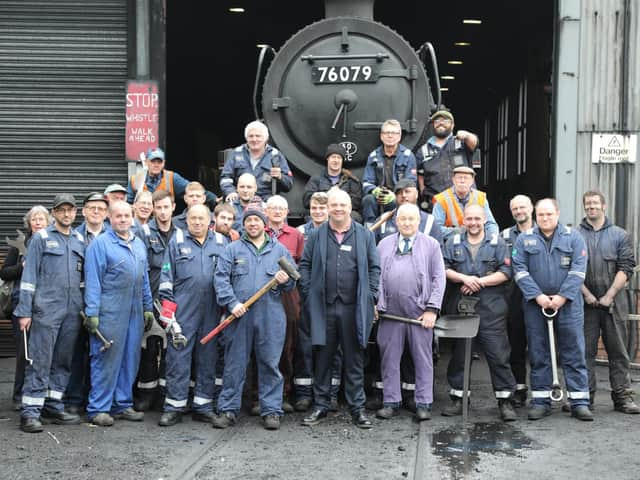 Members of the NYMR team
An email sent by the charity today read:
"Since launching the Crisis Appeal in March, we have been overwhelmed by the level of support to ensure that the railway continues in its current form. Thanks to the general public, heritage railway sector, local community and staff & volunteers we have achieved over £250,000 in donations.
"With your support and the current government furlough & loan scheme this has helped support the railway for the past nine weeks. However we still have challenging times ahead of us.
"We do not know when we will be able to run services in our current format.
"We do not know when restrictions will be lifted on catering outlets.
"We do not know when we will be able to operate the Pullman Dining Services.
"We DO KNOW that when we reopen, WE WILL BE THERE FOR YOU!
"We're not just saving the past, we're creating our future! The NYMR plays a crucial role in the local community, providing employment and volunteering opportunities, apprenticeship and educational programmes to help our visitors understand the important history and heritage of the railway and the North York Moors we run through.
"The railway is a key highlight for many holiday makers who would usually flock here as part of their stay.
"We are so grateful for all your support and kind donations so far. Thank you for helping to keep us steaming. Every penny that we receive makes a vital difference to our work and all funds will help to keep the railway operating in future.
An auction being run by the charity to raise additional funds ends at 5pm today, March 29 and features:
- Footplate experience with Chris Price, General Manager
- 2x Whitby Afternoon Tea
- Photography Day with Charlotte Graham
- Tour of MPD with Piglet
- 2x Festive Afternoon Tea
- Daily Service – Family Ticket
- 7-day stay at Levisham Camping Coach
- Personalised Headboard and a Family Ticket
You can find the auction by clicking here