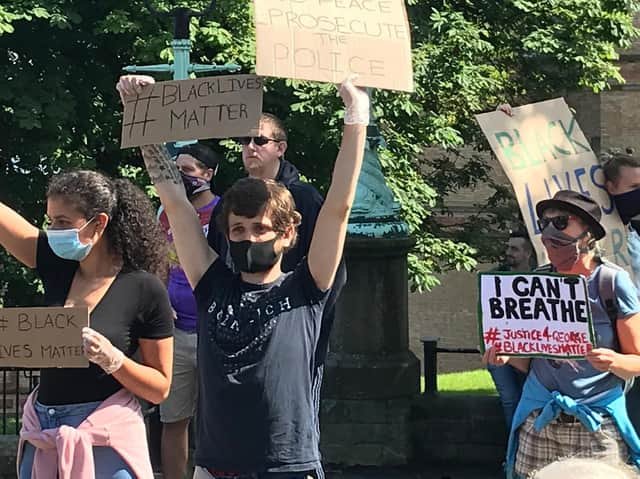 Photo: JPIMedia
Organisers of the protest outside the Town Hall say at least 100 people turned out to support the Black Lives Matter movement on Saturday afternoon.
A crowd also gathered around the nearby statue of Queen Victoria amid concerns it could be vandalised, despite protest organisers stressing that was not their intention.
There were some verbal exchanges between the two groups but no violence or attempts to damage the statue.
Jay-Lee Atkinson, who organised the protest with his girlfriend Amy Miller, said the event had exceeded their expectations.
"People I don't even know or have never seen before arrived to show their support in the face of adversity and then everything was great," he said.
"Sure, there was some heckling, the occasional slur - but nothing we couldn't handle! We all stood together against them in peaceful unity, singing along to music and smiling with one another."
There was an eight-minute silence towards the end of the protest when many 'took the knee' as a mark of respect to George Floyd - the black man who died after a white officer knelt on his neck for nine minutes.
Jay-Lee, 24, is from Scarborough and recently moved back to the area with Amy.
He said hearing Amy, who is of mixed race, talk of the racism she has experienced, even as a child, made him realise how widespread racism is.
"Nobody should be subjected to such cruelty, let alone the innocent mind of a child. It was really saddening, and eye-opening. We knew a few social media posts weren't enough for the cause and that we had to do more, so we did.
"Issues of systemic racism and oppression are widespread and deep-seated, and our country is just as guilty as others of injustices and excessive brutality by the police, who are paid to protect us."
Robert Simpson, of Scarborough Extinction Rebellion, said: "We were happy to assist and advise the BLM Scarborough protest co-ordinators and co-ordinate with North Yorkshire Police. We congratulate all on its peaceful success."
Jay- Lee and Amy had asked those taking part to adhere to social distancing guidelines, not attend if they have coronavirus symptoms and to wear masks and gloves.
Chalk was used to make markings on the floor to help protesters distance from one another.
"As we continue to protest, I will remain vocal on the importance of abiding by health and safety guidelines to ensure that any risk is as minimal as possible, but ultimately it will come down to personal responsibility of the attendees to make sure that this happens," said Jay-Lee.
He added: "I would like to personally applaud the local police for their commendable hands-off approach towards our right to protest."
The next protest is planned for next Saturday (June 20) at 3pm, again outside Scarborough Town Hall.