Full Steam Ahead - North Yorkshire Moors Railway ticking over behind scenes
I'd like to start this month's column by addressing the elephant in the room, and then move swiftly on to other, more hopeful things, writes General Manager Chris Price.
Monday, 30th March 2020, 2:20 pm
Updated
Monday, 30th March 2020, 2:20 pm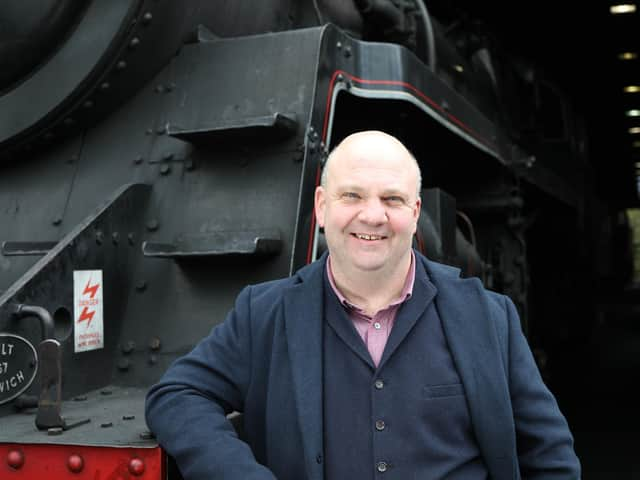 Chris Price, General Manager, NYMR
Firstly, COVID-19. We have made the incredibly difficult decision to delay the opening of our 2020 season until further notice, with only a skeleton team in place for security, which I doubt comes as a surprise.
It is also with a heavy heart that given the current situation and having to plan so far ahead for our special events, we have also had to cancel our:
• Volunteer Recruitment Day: April 19
• Diesel Gala: June 4, 5 & 6
• Behind the Scenes: June 6 & 7
But it's not all doom and gloom here.
During the past few weeks we've been out in the fresh air, busy creating wildlife corridors and food habitats for Brimstone butterflies as they move through Newtondale.
Our National Park and Countryside Warden Apprentices have been planting alder buckthorn, one of only two species of buckthorn plants that the creature relies on to lay its larvae.
The young caterpillars love to munch on its leaves and can smell it from some distance away.
This wildlife corridor work is part of our Lineside Conservation project, one of several exciting new initiatives that are part of our £10m Yorkshire's Magnificent Journey project.
As well as this, one of our lineside volunteers, Ian Wallis, has been busy restoring an important stone wall at Beck Hole, which many of you will know as a local Site of Special Scientific Interest.
It might not sound like much, but it has been a real labour of love for Ian, and he has an incredibly strong attention to detail, ensuring it curves around tree roots and he's even placed moss on it.
The wall measures 688m long and has involved around 100 people over the year, and hasn't actually been in one piece since the line became a heritage railway.
Ian is hoping to complete the last couple of metres of wall this month, which is a real accomplishment.
We'll keep you updated on progress.
Finally, you may or may not be aware that we've just launched a crisis appeal to help secure the livelihood of the NYMR and keep it on track to reopen later this year.
We need a fighting chance to keep the railway going.
We could potentially lose up to £1m over the coming weeks and we're unable to claim insurance compensation for business interruption and as the situation currently stands, monetary aid hasn't been offered to charities.
The only government help available at present would put the railway into significant debt, which could take years to pay off.
If anyone is able to help in any way please visit: nymr.co.uk/crisis-fund or text 'NYMR' to 70085 to donate £10.
This costs £10 + a standard rate message. If you text 'NYMR 1' = £1.