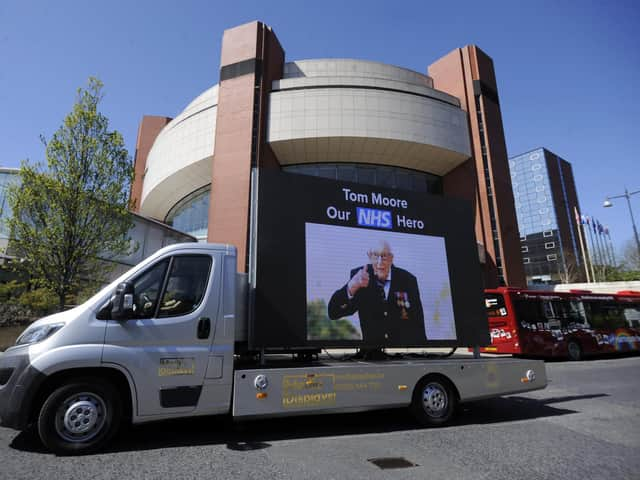 Captain Tom Moore pictured on an electronic board outside the Harrogate Nightingale Hospital.
The Second World War veteran, who is 100 this week, has raised around £30m for the National Health Service by walking laps of his garden.
A lifetime of service to the country has been crowned by this impressive feat.
Perhaps it has caught the collective imagination because the sacrifices made by our NHS staff and other essential workers are much in our thoughts and the language of fighting a war has been much to the fore in the coronavirus crisis.
People have been invoking a wartime spirit of collective effort against a common enemy to encourage others to keep going on with social distancing and staying at home.
The dedicated efforts of so many people in serving others are exemplified by Captain Tom, but the less well known examples of care are just as important and have given us hope in the midst of the serious demands of this time.
Hope for the future is crucial and increasingly there is discussion about how the lockdown will be eased and eventually ended.
People need to believe that not only the restrictions on our life are helping but that life will return to something like normal.
During this period Christians have been celebrating the feast of Easter and the hope that Jesus' resurrection brings.
I'm struck by how different Jesus appeared after the resurrection.
Even his closet friends didn't always recognise him, he appeared and then disappeared on occasion, could enter locked rooms, and finally a cloud took him from the disciples' sight as he entered the glory of heaven.
The resurrection was not a restoration of the past but the opening up of people's lives to a new future.
It has given millions hope in the past two thousand years.
It can do so today as we give thanks for all those who are helping others in so many different ways in our communities.