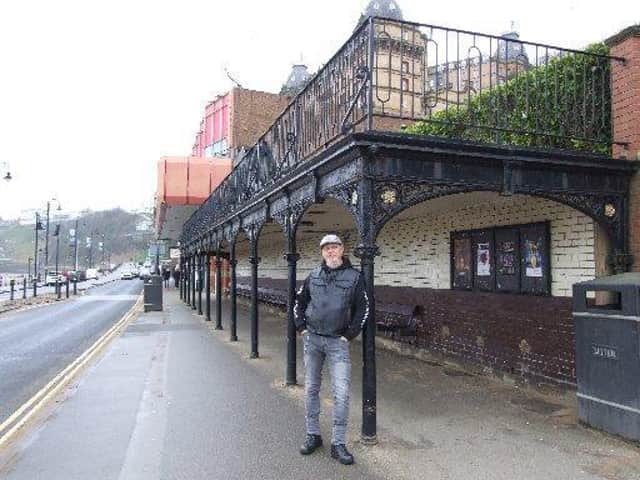 Local history buff and biker Phil Hibbard has succeeded in winning listed status for a popular Scarborough seafront seating shelter.
I should say that I left Scarborough in early 1960s to seek my fortune, as they say, and have now lived in the south west for more than 50 years.
However I was born and raised in the town, and still visit when I can.
My mother and my father Sidney Cossins ran a boarding house in North Marine Road, and my father combined this with his trade as a blacksmith, working for Brogden & Wilson, a small metalworking business, then of Sussex Street.
They specialised in metal structures e.g. fire escapes, railings, ornamental metal fencing and gates etc.
My father worked at B&W from the late 1940s through to the early 60s, when ill health caused him to change employment.
He then organised the Scarborough Football Club weekly football draw, and worked from an office in Bar Street.
Throughout those years, he was a trade union and Labour Party activist, and became a magistrate.
He also served on the town council for a number of years.
In those days this was indeed a rare thing for a Labour politician.
When I was a teenager, my father told me that he had restored the railings and handrails on the ancient shelter whilst working for Brogden & Wilson.
My guess is that he fashioned the improvements/repairs during the 1950s.
I think that you can see from both the photo reproduced in The Times, and one showing the shelter from a different angle (also showing Phil Hibbard) on your website, that the handrail construction is different to the rather more grand design of the pillars and artistic scrollwork below.
The handrail construction is mild steel, or possibly wrought iron, I would think?
But to see dad's work in all its glory 70 or so years on, and indeed standing the tests of time, is gratifying to me.
Nobles Place, Corsham, Wiltshire