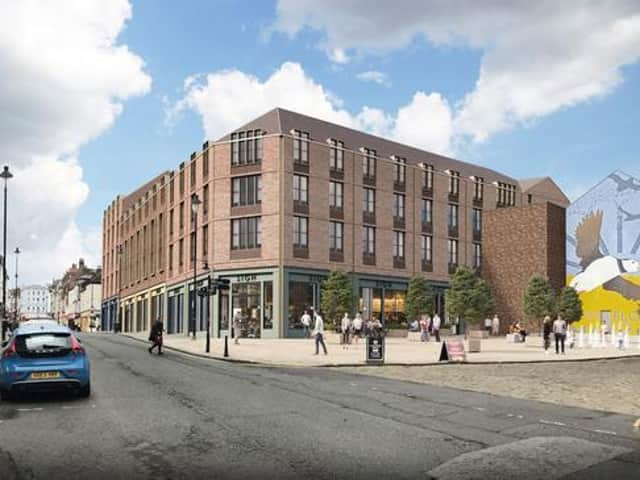 Latest artist's impression of the proposed flats.
1. There is no reference to parking or open spaces for the residents.
If the pandemic is to continue or other viruses emerge in the future, the lack of outdoor spaces will be an issue.
2. Students wish to share houses rather than live alone, and if the accommodation turns into (which it would) a mock halls of residence.
I'm sure doctors and nurses would need accommodation which is more peaceful.
3. The building design is no better than the Argos building, there is no imagination, no thought to historic area of the town.
The materials look cheap and will age badly.
In fact, it looks like an office block, or a building that could blight any high street.
A much better area for developers to utilise is the empty Yorkshire Coast College building on Scalby Road, near the hospital.
A space which has car parks, playing fields and toom to develop creatively.
The building would need a major renovation to turn into flats, but could hold more students and hospital staff and could incorporate cafes/bars/restaurants and mini supermarkets, etc, introducing jobs into the area.
The site in town needs to be thought of alongside a complete overhaul of the town centre.
Engaging new businesses, reducing the rates to attract independent shops, gallery spaces, cafes, etc.
The town should not be planned piecemeal.
But a complete strategic plan with oversight of the residents needs and future proofing to stop the decline of what was once a busy cultural and thriving seaside town.
Shelley Pearson, Scarborough