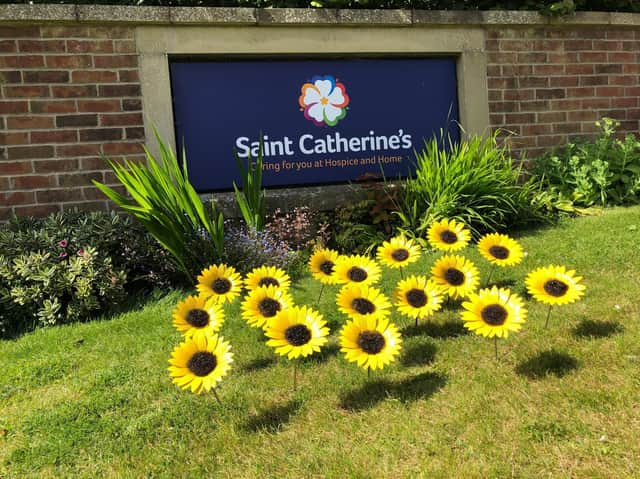 Saint Catherine's Hospice
The appeal focuses on the image of the sunflower, which is used all over the world as the emblem of the hospice movement.
Sunflowers are thought to represent love, admiration, loyalty, positivity and strength.
Susan Stephenson, communications and marketing manager, said: "This year facing the challenge of Covid-19 has brought uncertain and difficult times for everyone.
"Despite these difficult times our staff have continued to provide outstanding care, day and night, for patients and their loved ones both within the hospice and in their homes.
"We have heard first-hand from families how much it has meant to still be able to visit their loved ones as they receive end-of-life care.
"Our nurses have been wearing protective clothing and have carried on looking after patients around the clock.
"As we move from spring into summer, we do not know what the future holds as regards COVID-19 and the new challenges we may face but with your help, we are here to continue to support all the patients and families that need us."
To run all of Saint Catherine's services it costs around £6m a year, with only a third of the funding available from the NHS.
The charity relies on the generosity of the community to ensure it can raise the remainder – around £11,000 a day - and continue to provide much-needed care.
Susan added: "We have received some government support during these unprecedented times; however this will not cover all of the money we need to raise to continue to provide our care.
"We would be really grateful if you choose to support this year's Sunflower Appeal.
"On behalf of all of us here at Saint Catherine's, thank you so much for your support – it is truly appreciated."
Click here to make a donation.
You can also donate over the phone by calling (01723) 378406 or send a cheque, payable to Saint Catherine's Hospice Trust, to: Sunflower Appeal, Saint Catherine's Hospice, Throxenby Lane, Scarborough, YO12 5RE.
The Scarborough News and its sister papers on the Yorkshire coast are shining a light on all the wonderful work that Saint Catherine's does for the local community, in a bid to help the charity continue to fund its services.
Our Helping Hand campaign aims to help raise the extra cash the hospice needs this leap year; it has to raise £11,000 every day to keep running its 16 specialist services.
Every donation, large or small, will be welcomed – click here to help.