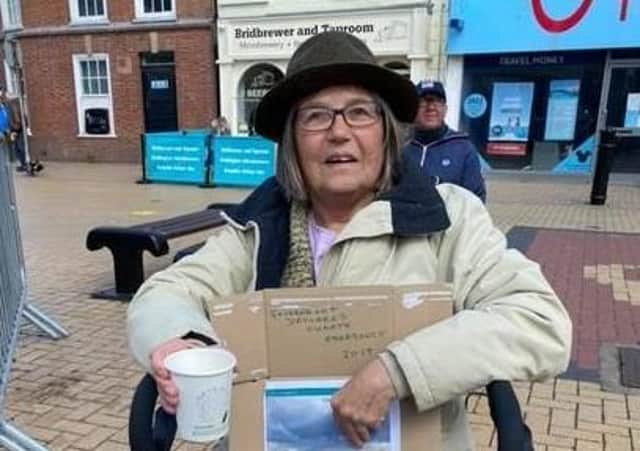 Climate Change campaigner Barbara Atherton.
Maybe it is because of what is called 'climate instability' which means that all our warm air is travelling up to the Arctic and we are getting its weather in return (though here in Bridlington Bay we are a bit sheltered).
It's all part of the climate change effects.
In 2019, the Government declared a climate emergency.
Campaigner Mary Elliott, who runs Planetwise (the Vegan shop in town).
Then along came Covid-19.
In January 2021, the East Riding of Yorkshire Council followed suit and declared a climate emergency and published its review (which is available online).
ERYC has been keeping its eye on and making various preparations for climate change effects for a few years now.
Mary Elliott, who runs Planetwise (the vegan shop in town) is part of Bridlington Transition Town Group which aims to help towns become more aware and self-sufficient, and a small offshoot group was formed (via Zoom): the Climate Change Action Group (open to all, just ask).
One morning Mary woke up to the brilliant idea that maybe people might like a chance to talk about climate change, and immediately started her own lunchtime version of Greta Thunberg's actions and sat quietly on King Street with a handwritten poster saying 'Let's Talk about Climate Change'.I join her when possible and sometimes friends gather. We will happily talk and answer questions from passersby (for example, what can I do to play my part? Are the oceans really rising?) or just share a common awareness of the problem.
Climate change is a serious universal issue affecting all of us, even if we are convinced it isn't happening in our own neck of the woods. Maybe a bit like Covid in that respect! But 'listen to the science', as Greta says.
In Bridlington we are lucky to have a local church minister, the Rev Oli Preston, who is part of Christ Church Bridlington Network, who feels passionately about the issue and is in our Climate Change Action Group.
Oli has been getting Christ Church Network thinking about and engaging with eco issues, and as part of this the church has agreed to work with Transition Towns to hold two Eco Summit events on the church premises.
One is on Saturday, July 10, and is a networking and local planning meeting (could you help?).
The other will be on Saturday, September 18, which will be a festival day open to everyone, with speakers, refreshments and possibly some workshops and stalls.
We are really hoping people will come to one or both – a chance to come and talk, to learn, to gather together on this big issue.
Until then, please do stop off and chat to us in King Street, when you see one or both of us.
Share your feelings, actions, experiences about climate change, ask for information and advice. We will do what we can, we always smile and we never bite.