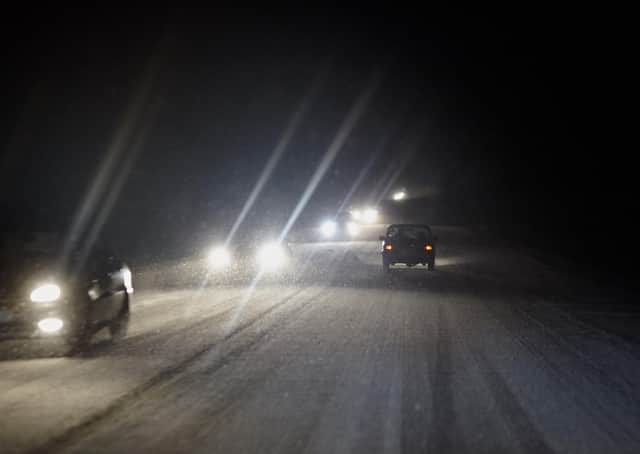 When driving in the dark it is always best to take your time and leave more than enough space between your car and the one in front. Photo submitted by www.billplant.co.uk
It is important to make sure your car is in full working order every time you take to the roads, especially when the roads might be wet or icy. Make sure your lights and indicators are working, as well as your fog lights. Such is the time of year, you can never be sure when you will come across fog, so it is important to make sure you have the facilities to drive safely through patches where visibility is heavily reduced. Also make sure that your tyres aren't bald to maximise the grip you have on the road.
When driving in the dark it is always best to take your time and leave more than enough space between your car and the one in front.
The roads will be more slippery, with potential ice and water on the road too, so it is important to keep the distance and leave yourself enough time to react to adverse conditions.
Keeping your car clean is crucial in ensuring you are safe on the road. Some of the most simple to keep on top of are keeping your windshield and headlights clean so that you have maximum visibility and people can see your whilst you're out on the road. It's also important to remember to use your full beams when driving on dark roads, where safe to do so, and make sure you dip them when you see oncoming traffic.
Stock up on the essentials
In the event that you do breakdown and need to wait for road-side assistance it is important to keep a number safety items in the car, especially in the cold, dark months of the year.
You should have a high-vis and torch in your car in case you have a problem and are then able to navigate in the dark, but also be clearly seen by oncoming traffic, as well as bottles of water and snacks to keep your energy up and a warm blanket to wrap yourself in – especially as you're advised to exit your vehicle when awaiting breakdown. You may also want to pack some spare warm clothes to layer up.
If there is snow and ice on the road, it's important to remember that a different set of driving rules come into play. You can't simply brake how you normally would, as you'll likely skid, veer off and put yourself and others in harms way.
If you do end up going over some black ice, there are things you must do to ensure you recover from it as quickly and safely as possible. When you lose control, you should keep both hands on the wheel and avoid braking. You should also steer into a skid; this will help get the car straight and back on track. Most importantly, it is best to keep calm.
Always be learning, take a Winter Driving Lesson
If you learnt to drive and passed your driving test in the daylight, you could consider reaching out to a professional driving school to take a winter driving lesson (yes, even after you've passed your test).