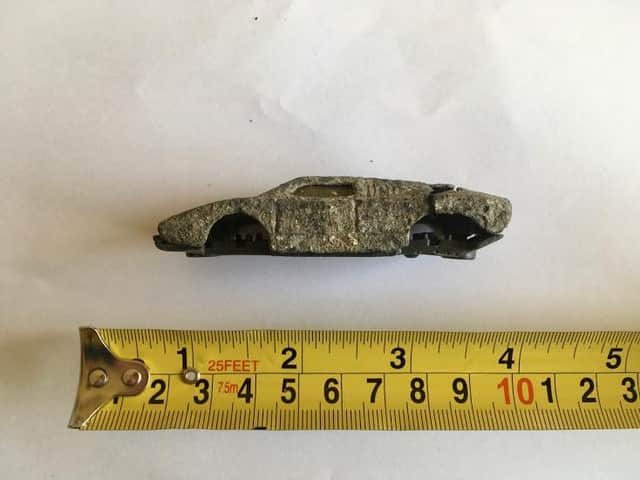 A 1970s toy car was unearthered
People living in Scarborough were asked to send images of objects that they had found in their gardens to the Big Dig-ital.
A team of volunteers led by Marie Woods and Chris Hall, field officers for Scarborough Archaeological and Historical Society, identified the objects.
Ten objects were selected, and these were discussed in an hour-long live-streamed discussion.
In total, 59 objects were submitted by 13 people. The objects ranged from an 8,000-year-old flint blade to 1970s toy car - a Hot Wheels Lamborghini Countach.
More than 50 people watched or took part in the online discussion, including people in Ireland, Spain and Italy!
John Oxley former City of York archaeologist said, " We are all absolutely delighted with the response to the Big Dig-ital.
"People went out into their gardens, on the beach, along footpaths, and rummaged in their kitchen drawers!
They sent in photos of a series of fascinating objects: a Mesolithic flint blade, a beautiful flint knife both thousands of years old; shards of medieval pottery made here in
Scarborough; a Civil War canon ball/gun stone; and children's toys - toy lead soldiers and a Hot Wheels supercar."
"We were all disappointed that we had to postpone the Big Dig, a three-day community excavation in Scarborough Old Town, but we decided to embrace technology in the hope of bringing archaeology to everyone in a unique online event.
The Big Dig-ital has been a first for Scarborough and has been a great way of engaging the community and hopefully sparking new interests in archaeology and local history. "