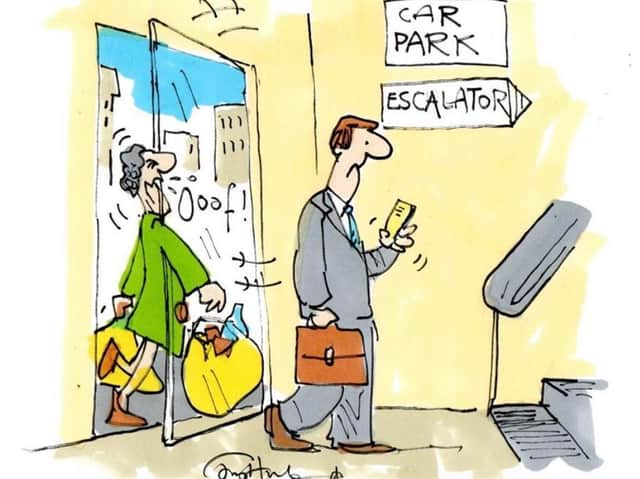 Private Eye cartoonist Tony Husband's cartoon called "#BeKind"
Thousands of copies of 'A Pocketful of Kindness' by North Yorkshire author, campaigner and motivational speaker 'Big' Ian Donaghy have been snapped up across the country and abroad.
Ian, who lives in York but hails from Tow Law in County Durham, said: "I think it has just come at a moment to capture the mood of the nation. A need for a little bit of positive motivation and appreciation at a time when we need it most."
More than 10,000 have been sold, without a publisher or Amazon to help, simply through word of mouth.
Saint Cecilia's Care Group MD, Mike Padgham, signing books for his staff.
Businesses and organisations from hospitals, social care and nursing providers to software companies, construction sites, architects and legal firms have all been buying hundreds of copies to give to their staff as thank you gifts for their amazing work during the pandemic.
It has sold across the UK and in France, Italy, Denmark, USA, Canada, Australia and New Zealand.
They are in good company, as the book has earned itself some high-profile reviews. Television personality Angela Rippon CBE called it 'a work of true love', Emmerdale's Reece Dinsdale called it "Exquisite writing" and Sherlock writer Mark Gatiss described Ian's storytelling as "wonderful and inspirational".
"I wanted to show people how invaluable their acts of kindness are in the lives of others and how much they matter, added Ian. "Never has this been more important than during lockdown."
Author Ian Donaghy with A Pocketful of Kindness
He has drawn on his experiences working in dementia care, working with young people with learning difficulties and his time working in crime reduction for the Home Office. There are also tales from his 30 years as a musician and from his earlier life in the North East and his home for the last 32 years, York, as well as travels further afield.
It includes short stories, monologues and Ted Talks-style chapters, all lasting the same as a cup of tea, championing the virtues and power of kindness.
There are true stories about household names like Sir Bobby Robson and Barry McGuigan and also about unsung heroes from all walks of life, like 94-year-old Roy, for whom Ian made a dream come true by enabling him to score at Meadow Lane, the home ground of his beloved football team Notts County.
Award-winning Private Eye cartoonist Tony Husband provided a cartoon called "#BeKind" for the book.
Author Ian Donaghy with A Pocketful of Kindness
The key to its success is that batches of books can be branded bespoke with a company or organisation logo and there is room inside for the MD to add a 'thank you' message to their staff.
One MD who did so was Mike Padgham, who bought 160 for each member of his staff at Saint Cecilia's Care Group in North Yorkshire and added a personal note in each.
"It is a wonderful little book," said Mike. "Perfect for dipping in and out of for an uplifting story or two and a great gift to show thanks to your team in these challenging times."
The book was put on sale on Ian's website, bigian.co.uk, and proved popular from the off, selling 2,500 copies in its first two weeks, based only on word of mouth and LinkedIn. Many buyers bought a single copy and then returned to buy more with many buying enough for all of their staff.
The book has been described as "A Haynes manual for kindness" and highlights how communities coming together can overcome anything that life throws at them, producing the result: Covid 19 Kindness 20.