Amended "key worker" timetable issued for trains from Whitby to Middlesbrough
From today (Monday March 30) the number of trains running between Whitby and Middlesbrough have been reduced to just three per day, a reduction of 50% in the services available.
Monday, 30th March 2020, 11:24 am
Updated
Monday, 30th March 2020, 11:26 am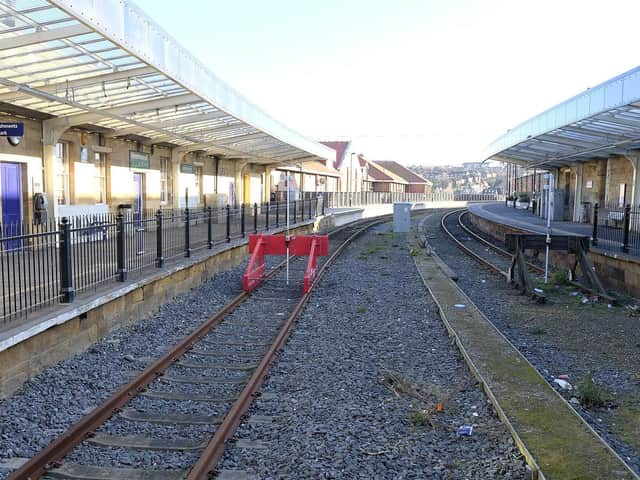 Whitby Station
The early morning and late night departures introduced in December, as well as the lunchtime train have now been suspended.
The remaining three trains will leave Whitby at 08.45, 16.00 and 19.44, with the 16.00 departure continuing through to Newcastle.
Services will depart Middlesbrough at 06.55, 14.00 and 17.55. The 17.55 service
will start from Newcastle at 1641.
For further information visit: www.eskvalleyrailway.co.uk
Coronavirus travel information issued by Northern Trains last week read:
"During this difficult time, we're committed to supporting all our customers and ensuring that if they do need to make that essential journey, it is as safe as it can possibly be.
"From Tuesday 24 March, Northern Trains, in line with the rest of the industry, is operating a temporary timetable designed to keep key workers on the move. you can find full details of this timetable here.
"We are sorry for the inconvenience this will cause our customers. Please check immediately before you travel. Rail replacement services may run on some of the routes.
"We have suspended the selling of tickets on board trains.
"Customers will still require a ticket to travel and you should buy before you board from stations, ticket machines, and online via the web (www.northernrailway.co.uk) or our mobile app.
"Our ticket offices remain open so, if you're starting your journey from a staffed station during opening hours, our helpful staff will be ready to sell you the ticket you need.
"Most of our stations now have Ticket Vending Machines which sell tickets to all locations in the UK.
"We have a robust plan in place for cleaning our trains. This includes the removal of litter throughout the day and to ensure all surfaces are cleaned on a regular basis.
"On-board our trains and at stations, where facilities exist, there is soap and water available in our toilets for customers to follow NHS advice to wash their hands for 20 seconds.
"The Government is advising that only essential travel should be made and passengers should try to avoid rush hour, vary usual travel times to prevent crowding and if possible, work from home. "