Around 3000 students to attend the 14th Science and Engineering Week at Scarborough Spa
The region's biggest showcase to inspire young people into skill-based careers is getting set for its 14th annual event.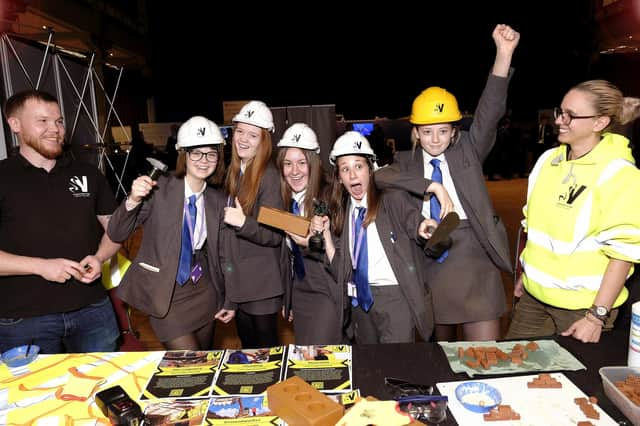 Scarborough Science and Engineering Week takes place October 10-12 at Scarborough Spa - and will take the total number of students visiting the dynamic exhibitions to more than 40,000 since it began.
At this year's three-day event, dozens of employers and organisations will be engaging with about 3,000 students aged from seven to 19 from across North Yorkshire to show how science, design, technology, engineering and mathematics skills make a difference.
Exhibitors focus on interactive, hands-on activities and students will be greeted by a mobile robot.
The event is run by the Scarborough Business Ambassadors, with the support of NYBEP (North Yorkshire Business and Education Partnership).
There will also be a free open evening on Tuesday October 10 from 6pm to 8pm for families, the public or anyone interested in career changes.
No booking is required and students of Scalby School, which is not attending, can join this session.
Anglo American is the main sponsor. North Yorkshire Council is the venue and transport sponsor for schools and colleges across the Yorkshire coast, Ryedale and beyond.
The newest supporter is Made Smarter, which is sponsoring the dinner and the most interactive stand award.
Made Smarter is part of the York and North Yorkshire Local Enterprise Partnership and aims to help manufacturing businesses transition to digital technologies to improve productivity.
Employers are invited to exhibit in the Employer Zone, dedicated to interactive STEM activities.
Post 16-18 education and training providers are invited to exhibit in the Education Zone, which is dedicated to providing impartial information on STEM studies.
Jo Thompson, who chairs the Ambassadors, said: "We are very pleased to be holding this important event for the 14th year.
"There is such a huge shortage of local and national skills across the board that we all need to help promote the fantastic and wide-ranging career opportunities that are available - and skills which we need for our growth and prosperity.
"I would like to thank all our superb exhibitors for taking part this year and over previous years, and our much-appreciated sponsors who enable us to create this wonderful showcase."
Businesses have an opportunity to sponsor the awards, aimed at celebrating the contributions of the exhibitors.
The Scarborough Business Ambassadors will be inviting students, teachers and families attending the event to vote for the best exhibitions - visually, most informative; most interactive (sponsored by Made Smarter) and the most informative STEM Apprentice.
Nominations are invited for the Vaugn Bulmer Award for the Most Exceptional Young Engineer, held in recognition of the Plaxton director who was instrumental to the event's success in the early years.
Exhibitors include: Anglo American, NHS, University of York - Physics, Flamingo Land, Smailes Goldie, Made Smarter, Army, McCains Food Ltd, Castle Group, Deep Sea Electronics, IET, Legrand, Cirrus Research, Navy, Unison, Dale Power, Alexander Dennis/Plaxtons, Scarborough TEC, Scarborough Construction Skills Village, CU Scarborough, Beyond Housing.
Businesses interested in participating can contact Claire Healy [email protected] or on 01904 942300.