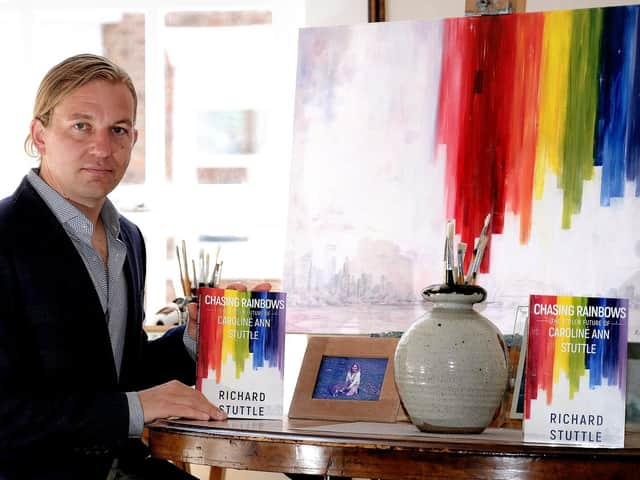 Richard Stuttle with a copy of his book and his original painting which is the front cover for the book.
The book titled, Chasing Rainbows - The Stolen Future of Caroline Ann Stuttle, talks about the loss of his sister, dealing with grief, and the charity in her name that is helping to bring awareness of safer travel to the backpacking community.
Richard's sister Caroline Ann Stuttle was 19 years old when she was murdered whilst backpacking in Australia in 2002.
Caroline's tragic death led to the family setting up a charity in her name Caroline's Rainbow Foundation. The charity works to raise awareness for the importance of safer travel to anyone going travelling.
Richard said: "We started Caroline's Rainbow Foundation, which was really to help young backpackers and young travellers, travel in a safe environment.
"We didn't want families to go through what we were going through, and the horrific circumstances we found ourselves in, and we wanted to help educate the travel community about travel safety.
"That was how the charity came to be, and 19 years later its still going strong and we have got some great projects."
Richard decided upon writing the book a couple of years ago as a way of pulling together all of the work that the charity has done in the past 19 years.
He said: "I made the decision a couple of years ago to take some time to write every day and see what I could do.
"I wanted the book to not only talk about Caroline and educate people on travel safety, but to give a true account of what it is like to be a backpacker, and also what it is like dealing with long term grief and how that affects you and affects life.
"It is also a legacy for Caroline, the work and the people's lives that she has inspired.
"If it can help someone who going through grief or help someone to understand the risks when going travelling then the book as done its job.
"Her energy and passion for life was too strong to let it fade away."
Richard, originally from York, moved to Scarborough last year to spend more time with his father Alan Stuttle, who has a gallery on North Marine Road in the town.
Alan said: ""I am very proud of my son for writing the book, I know it was incredibly difficult to write. I feel it is an important read as it might help people who are struggling with grief, as well as offering inspiration and safety advice for people who are thinking of going travelling."
To find out more about Caroline's Rainbow Foundation or to order a copy of the book, Chasing Rainbows - The Stolen Future of Caroline Ann Stuttle, you can visit the website here, https://carolinesrainbowfoundation.org/