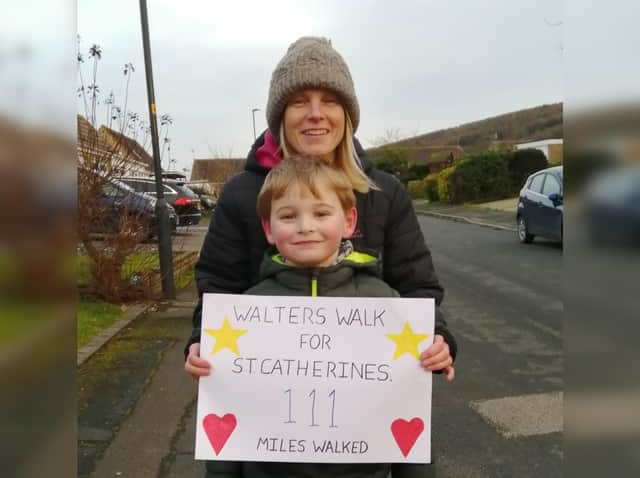 Walter with mum Juliet
Six-year-old Walter McNeil has been chosen for a Morrisons Little Sunshine award by the supermarket's Eastfield store.
The title is part of a Morrisons campaign to spread hope and happiness as the country recovers from the pandemic, and recognise the efforts of those who have gone the extra mile.
As reported by The Scarborough News, Walter lost his dad Paul, 38, two years ago following a battle with cancer.
After talking to his mum, Juliet, they decided to raise money for Saint Catherine's by taking on a walking challenge.
The Hertford Vale School pupil initially intended to walk 50 miles but his end tally was more than double that at 111 miles, and he raised more than £3,000 for the charity.
Community Champion for the Scarborough branch of the supermarket, Ellie Waite, said: "Saint Catherine's is a charity close to the hearts of so many people in this area and they do an amazing job providing support and care to families and those with life limiting illnesses.
"This last year has been so hard on us all but the children have been our true heroes. They have missed out on school and seeing their friends but have just carried on. "Walter has shown true selflessness and raised a fantastic amount for charity.
Community Champion for the Scarborough branch of the supermarket, Ellie Waite, presents Walter McNeill with his Little Sunshine award.
"Well done Walter, everyone at Morrisons Scarborough is super proud of you."
The Morrisons campaign will also see the store handing out postcards to school pupils and asking them to write messages to residents of local care homes.
And Ellie said Morrisons wants to start a children's book swap service in store, to boost young people's reading, and the team are appealing for donations of children's books.
Nationally, Morrisons is launching its own story about a young sunflower seed, and copies of this will be handed out by the supermarket's staff.
Any schools who would like their students to be involved in writing the messages to care home residents or anyone with nominations for the Little Sunshine awards can email Ellie at [email protected] .