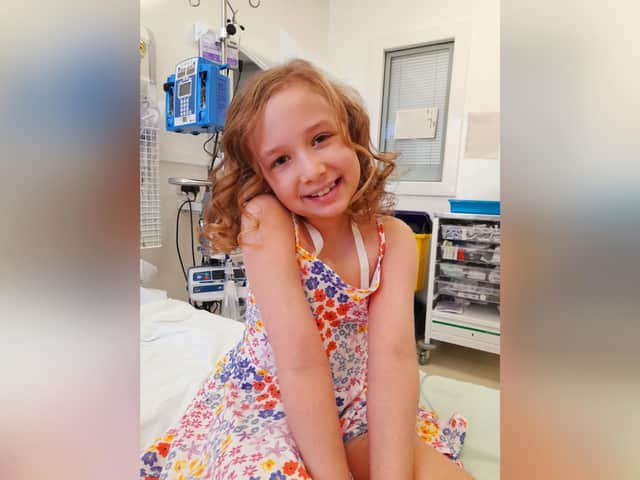 Brave Evie Hodgson has finally had her stem cell transplant.
Evie Hodgson, from Sleights, near Whitby, received her "magic donor cells" last week and is said to be recovering well in hospital in Newcastle.
"She still has a long way to go but so far she's doing really well," said her dad, Andrew.
There was a last-minute delay to the procedure for the courageous eight-year-old, who goes to Fyling Hall School in Robin Hood's Bay, when her donor cells were left stuck in London on the day the transplant should have gone ahead.
Evie Hodgson and her mum Tina with the donor cells.
The flight scheduled to bring the cells to Newcastle was cancelled because of coronavirus, and the transplant had to be delayed until the following day.
The news was another twist in the tale for Evie, who has had a tough journey to reaching the transplant stage following her diagnosis of the rare and devastating blood disease aplastic anaemia last year.
The donor who was initially found for her pulled out just a few weeks before the procedure had been scheduled, with no explanation, leaving Evie and her family devastated.
They then launched a drive to raise awareness of the stem cell register and how easy it is to donate in a bid to find a new match.
Their appeal caught the hearts of a host of celebrities including Dame Judi Dench and Take That's Gary Barlow who sent their well wishes to a delighted Evie.
Finally, just before Christmas, the family received the amazing news that another donor had been found and was willing to donate.
"Evie won't be home for another six to eight weeks until she can be released from isolation," said Andrew.
He explained the treatment required to give the transplant every chance of succeeding has stripped back Evie's already-compromised immune system.
She will also still need to receive blood and platelet transfusions for the coming weeks, until the transplant starts to take effect.
Evie's mum Tina added: "The next step is to wait for engraftment.
"When engraftment happens, it means that Evie has accepted the new bone marrow and starts producing her own cells.
"Unfortunately, we have to wait three to four weeks for this to happen."
Evie has been working on her own YouTube channel to document her journey and help other youngsters who find themselves in hospital.
Her videos include a tour of her hospital room and a guide to overcoming worries about taking medication. It can be viewed here.