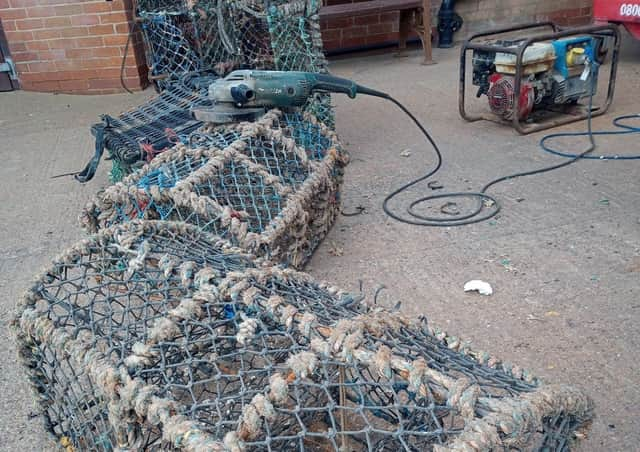 The recycled lobster pots make great centrepieces in gardens.
The organisation is helping to raise funds for the RNLI by selling recycled lobster pots as garden features.
The scheme will offer the area's residents the chance to pick up a bargain while recycling lobster pots that are no longer being used by fishing crews.
The pots will be available for a minimum donation of £10. However, any interested person must contact the Bridlington RNLI's fundraising chair Bob Taylor.
They will then be placed on a list until a lobster pot becomes available.
Dubbed 'the lobster capital of Europe', Bridlington harbour sees hundreds of lobster pots used by local shellfish companies every day.
The harbour is one of the largest shellfish landing ports in the UK and Europe.
When the pots become worn or damaged it is then the responsibility of the Harbour Commissioners to ensure they are disposed of in a safe manner.
However, the new initiative, proposed by Harbour Master and RNLI crew member Lawrence Porter, will give green-fingered Bridlington residents the opportunity to purchase old lobster pots as garden features.
Mr Porter said: "The lobster pots are usually broken up and thrown away, but an idea hit me that they might be desirable as garden features.
"So instead of throwing them away, I thought the Lifeboats could benefit if they were sold for donations rather than just discarded."
New lobster pots can cost more than £100 and require intricate knotwork and craftsmanship to make.
The recycled pots can be used to create a great centrepiece for a maritime-themed garden, or can be used to protect plants and crops from wildlife.
An RNLI spokesman said: "Please do not call the Harbour office.
"To purchase one of the recycled lobster pots simply contact Bob Taylor on 07730 988225 or email [email protected] with your name and number.
"Your details will be kept until a lobster pot is available and then instructions will be provided on how to arrange collection.
"There is a recommended minimum donation of £1o per pot and you can make donations by cash or cheque at the Harbour office, though please make all cheques payable to Bridlington Lifeboats."