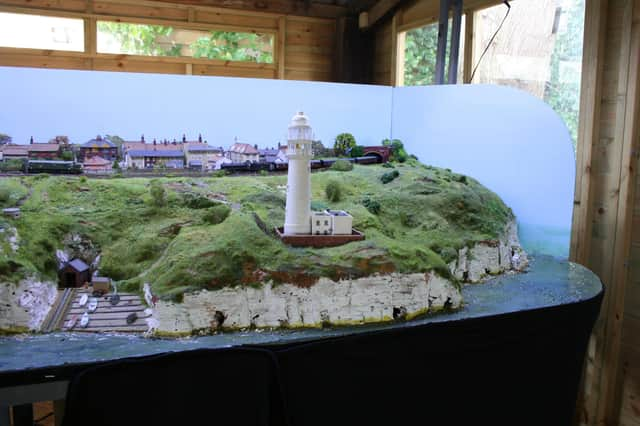 Annerley - an imagined scene of a railway along the cliff tops of Flamborough Head - is one of 12 layout on display. Photo submitted
The Bridlington Model Railway Show will be held at Emmanuel Church on Cardigan Road between 10am and 4pm.
Admission to the event is £5 with accompanied children free of charge.
A spokesperson for Trainshed said: "There will be 12 working layouts on display in various scales and gauges ranging from N gauge to 0-16.5.
The Draxbridge layout, a fictitious freight yard located in Yorkshire. Photo submitted
"At least three of the layouts on display will be presented by Trainshed members and will include Annerley, a layout which depicts and imaginary layout along the Flamborough Head coastline.
"Many of the features along this coastline have been modelled including the lighthouse, North landing and the scenes from the villages of Sewerby and Flamborough.
"The other two layouts presented by Trainshed members include St Aidens Cross based in East Yorkshire and Draxbridge, which depicts a loco motive depot serving a well known power station.
"Other layouts on display are being exhibited by members of Scarborough and Hull Model Railway clubs and there are several presentations by individuals.
"The show will be supported by specialist traders who will be able to supply model railway items as well as related collectables."
1) Annerley - N Gauge by David Harrison, Trainshed member. An imagined scene of a railway along the cliff tops of Flamborough Head. It is reminiscent of a busy Summer Saturday in the 1960's with excursion trains and holiday specials passing through on their way to Scarborough or Butlins' camp at Filey. Scenes from around the Headland are modelled . The village incorporates many buildings based on examples to be found in Sewerby and Flamborough.
2) Filey - 00 Gauge presented by Bridlington MRS. The layout shows Filey station in the 1960's. The layout is operated as an end-to-end layout but is due to be altered to form a continuous loop so that longer trains can be run.
3) Wardwood - 00 Gauge by Ian Woodward, Hull MRS, Wardwood is a fictitious location in the old West Riding of Yorkshire. It is set between 1968 and 1972. British railways are in the process of changing its corporate livery to blue and grey. Wardwood is a busy market town. It has through trains and local services to other towns in South and West Yorkshire and Manchester. There are freight trains heading for the marshalling yards in the vicinity. There is a wide variety of locomotives and multiple units operating the services.
4) Dolwyn - 009 by David Holmes. Loosely based on the Glyn Valley Tramway it is set in the 1930's in North Wales. Dolwyn is a fictional village but the buildings are based on those found in Dolywern and the rolling stock is that which would have been seen in that period.
5) Low Fell - N Gauge by David Pywell, Scarborough & DRM. The layout depicts a rural terminus station of a fictitious heritage railway. It is based on the outskirts of a town. The layout runs a variety of preserved locomotives. Many of which will have been seen in real life. The layout is DCC operated and most of the locomotives are sound fitted. The points are operated manually.
6) Hollybush - 00 Gauge by Graham Hands. Hollybush is a fictitious sub-depot of the once enormous complex at the Longmoor Military Railway in Hampshire. The railway closed in 1969 but has featured in many films. The layout has been constructed to showcase the authentic Longmoor locomotives produced by the leading manufacturers.
7) Salthaven Quay - 0-16.5 by S & K Cooper. The scene for this layout is imagined to be on the River Haven at Saltfleet, Lincs. The quay is served by the 2ft 6" gauge Lincolnshire Coast Light Railway. It is set in late afternoon in November, thus whilst it is dark the shops are still open. All the buildings are scratch built.
8) Aldergrove - N Gauge by Martin Austin, Hull MRS. This layout represents a typical small-town station. It was once a through station but became a terminus after the line beyond the town was closed due to the "Beeching axe". The station is now served by DMUs on local services and by loco hauled trains, separated from London trains at a mainline station further down up the line. Local freight is shunted into the small factory and warehouse.
9) Chester Road - 00 Gauge by Robert Denton, Scarborough & DRM. This layout is a fictitious location on the North Eastern Region and Midland region during the mid-1960's. it is a small light maintenance depot with refuelling facilities. A mixture of steam and diesel locomotives can be seen. There is a two-road engine shed and a gated lay-by siding. A sequence of train movements is worked and covers a typical day with delivery of supplies and fuel followed by visiting locomotives coming in for refuelling or minor work before re-joining the mainline.
10) Draxbridge - N Gauge by J Hardy, Trainshed member. A fictitious freight yard located in Yorkshire. The freight yard is owned by Network Rail and also serves Draxbridge power station. The layout is based on era 9 (1995 onwards) but rolling stock from earlier periods can sometimes be seem running.
11) St Aiden's Cross - N Gauge by D Bannister, Trainshed member. St Aiden's Cross is a single-track fictitious layout based in the East Yorkshire chalklands it has a small goods yard and a quarry. The rolling stock is mainly of North Eastern origin but there are a few visiting locomotives
12) Entering the Yard - 00 Gauge by S Holland, Hull MRS. Set in modern times the layout was originally built to test locos. It has now progressed into a fully scenic layout. The layout is filled with detail so look out for many animals and different vehicles.
Go to www.bridmodelrail.org.uk for more information about the Bridlington Model Railway Group.