Bridlington School 'delighted' with Sixth Form students' 'excellent' grades on A-Level results day
Bridlington School is celebrating their Sixth Form students' success today, as the highly anticipated A-Level results are finally released.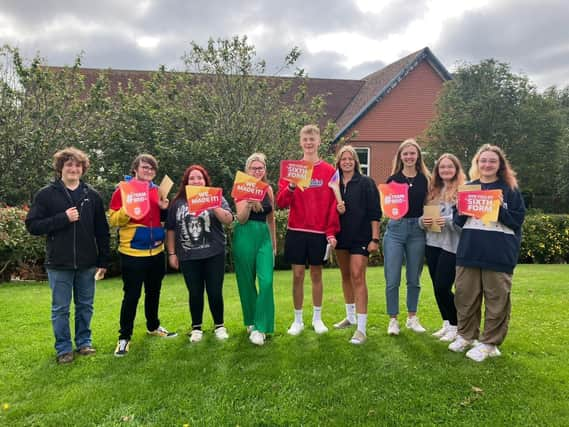 Bridlington School, located on Bessingby Road, recently achieved a 'Good' Ofsted report and the academic achievement is only continuing with the school's recent A-Levels results.
All of the students from Bridlington School Sixth Form are now on their chosen pathways, whether it be university, higher apprenticeship, degree apprenticeship or employment.
Universities still remain the most popular option with 70 percent of students choosing this route.
Kate Parker-Randall, Headteacher, said:"We are delighted to celebrate the successes with our Sixth Form students today with so many achieving grades allowing them to compete locally, nationally and internationally.
"With the support of our fantastic staff and their parents and carers we recognise student achievement today is not only in exam results but also in the wide range of personal skills and qualities our students achieve through the vast enrichment programme we offer.
"We look forward to staying in touch with our leavers through our vibrant alumni as they progress on to their exciting futures and as 'Old Bridlingtonians'.
"Whatever the next step, we are proud to 'hand on the torch of life' as our students go out to make their mark on the world."
Katie Davidson, Head of Sixth Form, said, "It has been a pleasure to see this group develop and achieve excellent grades.
"We are really proud of our students who leave a fantastic legacy for those following in their footsteps.
"Our Sixth Form is going from strength to strength with growing numbers as a result of the introduction of exciting and popular new courses and a legacy of academic excellence.
"As a result we are now investing in our Sixth Form learning environment with £100K for a new e-sports suite and improved access to specialist Sixth Form facilities."