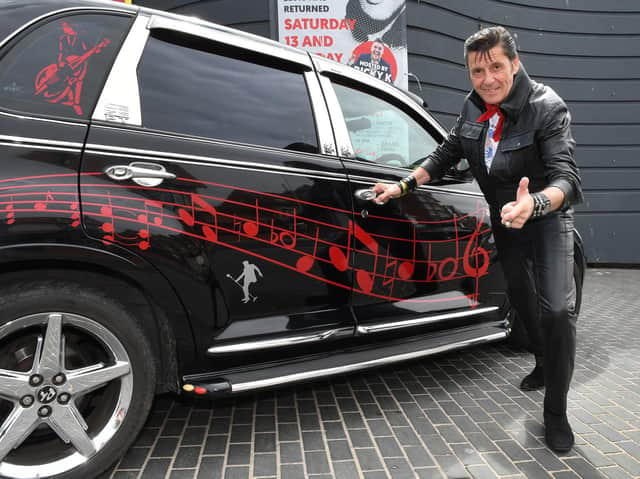 Ian 'Shaky' Deakin as Elvis. Picture by Paul Atkinson
Ian Deakin, who performs as Shaky but uses the stage name Andi Kean for competitions, will be second on stage at the Hilton Birmingham Metropole tomorrow.
He will then have to wait for the rest of the 30 acts to compete before finding out if he has made it through to Sunday's final.
He will perform two songs in a white Aloha suit which was made by a specialist Lancashire tailor who makes Elvis costumes.
It is the first time Ian, who has been performing as Elvis for 30 year, has competed in the European Elvis Championships.
He said: "I've done Brid Spa twice now and I need to start making a move if I'm going to progress.
"I enjoy being on stage, once I get on then I'm OK, I can still get a few nerves beforehand."
Ian got into Elvis through his mum, and was listening to his music aged nine in Australia on the day Elvis died.
His father used to be a singer and it was watching him on stage that inspired Ian to get involved.
He added: "I just need to get up there and do a good job.
"There's some really good acts so I've got to do a good job, being on early it's me that's setting the scene.
"I'm doing it for East Yorkshire, for Bridlington, to put us on the map."
Ian said winning the competition would help put him on bigger stages and in bigger competitions and bigger gigs. His dream would be to play shows in Spa theatres round the country.
Competitors will be judged on vocals, appearance, stage presence and overall performance.
The winner will be crowned European Champion 2020 and will receive £1000 prize money, a trophy and a live showcase at next year's convention.