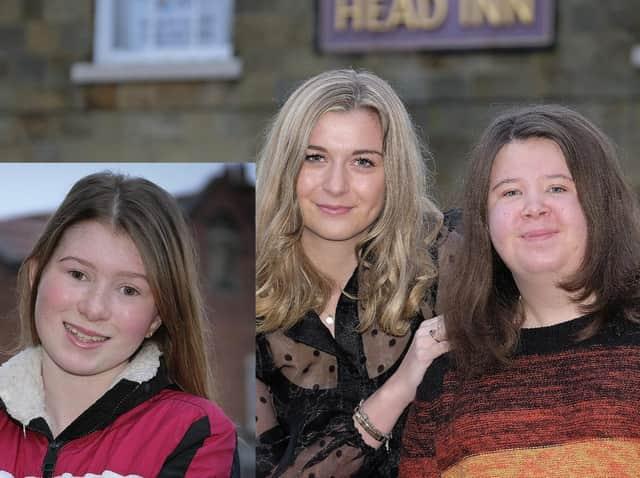 From left Matilda Adams, Henrietta Edwards and Louisa Emms. Picture by Richard Ponter
There were huge parties around the world as the year 1999 turned into 2000.
Five tonnes of fireworks were set off in Edinburgh, 2,000 doves of peace were released in Bethlehem and four tonnes of confetti rained down on Times Square in New York City.
Here in Scarborough, while most of the town were celebrating the once in a lifetime phenomenon, three families were getting ready for a similarly seismic event, the arrival of a new baby.
Matilda Adams now and inset as a baby. Picture by Richard Ponter and from the Adams family.
Henrietta Edwards, Matilda Adams and Louisa Emms were the first three babies to be born in Scarborough this millennium.
All three girls grew up in Scalby, though attended different schools and have all grown up to develop different interests.
We spoke to them about how growing up in the town impacted on their lives and what they hope to do in future.
Henrietta Edwards now and inset as a toddler. Picture by Richard Ponter and from the Edwards family.
Matilda was the first of the girls to be born, at 11.09am.
She grew up in a house on Scalby Road, in which her family still live, and is the oldest of three children.
Matilda now lives in London, having moved away for university when she was 18 after going to St Martin's Primary School, Scalby School and Scarborough Sixth Form College.
She said: "I loved Sixth Form but not school, I did GCSE sport and drama and they were the best bit."
Louisa Emms now and inset as a baby. Picture by Richard Ponter and from the Emms family.
Since the age of three, Matilda has spent all of her time dancing, attending Bensons Stage Academy until she was 13 and then Kirkham Henry Performing Arts Centre in Malton.
Matilda said: "[The school in Malton] did the Royal Academy of Dance syllabus which I needed to progress with dance as a career.
"Ballet has always been my favourite."
Matilda travelled to Malton on the train every day after school to dance and is now in her second year of a Ballet Education degree at the Royal Academy of Dance in London.
She said: "You're limited in what you can do in dance and the arts in Scarborough.
"I always wanted to go to London because that's where everything is happening."
However, Matilda still enjoyed growing up in the town, spending endless summer days at her family's chalet on North Bay and watching everything from Hi-Five to Angeline Ballerina live at The Futurist.
She said: "It was a nice place to grow up when we were little but now there's basically nothing for me to do, all the stuff I did as a kid has gone.
"I want to live in London for a bit longer but ultimately I'd like to go abroad. The dream would be to live in America."
Henrietta is the only girl who still lives full time in Scarborough.
The second of four children, she arrived two weeks early at 12 noon.
She spent her childhood outdoors with her three brothers and attended Hackness Primary School, St Augustine's and Sixth Form College.
It was Mrs Coombes, her reception class teacher at Hackness, who inspired 'Hettie' to study primary school teaching at CU Scarborough.
She said: "She was absolutely lovely, and I would like to be a similar kind of teacher to her.
"I chose to do university at home to stay in the town.
"I feel like my major thing in life is I like helping people which is why I want to be a teacher."
Looking forward, Henrietta might move away from Scarborough and likes the idea of living in Harrogate.
However, most important to her is family.
She added: "I think I'll get a lot of joy from having a home and a family."
Louisa was the last to be born, at 6.20pm.
She attended Newby and Scalby Primary, Graham School and Scarborough Sixth Form College.
The eldest of three children, Louisa enjoyed her childhood in Scarborough and, like Matilda and Henrietta, spent a lot of time outside.
She said: "I remember going to Kinderland when I was younger for birthday parties and stuff.
"It was really cool, I thought the big slide was the best thing going.
"My family had a chalet on South Bay so I spent loads of summers in the sea and on the beach. That was a big part of our childhood."
Along with her parents fostering an interest in culture, growing up in the town helped shaped Louisa's main interest – history.
She is currently in her second year of a history degree at university in York and volunteers as a guide at the Treasurer's House in York.
As a child, trips to the castle, Anne Bronte's grave and learning about the Vikings in Scarborough all contributed to her developing a passion for history.
After finishing her degree, Louisa doesn't have firm plans as to what she would like to do next but would like to work in something related to history.
She said: "I'm open to moving but I like Yorkshire, I like the people, the accents are nice and it's really historical.
"It's one of the best places to live in the country and I'm already here."