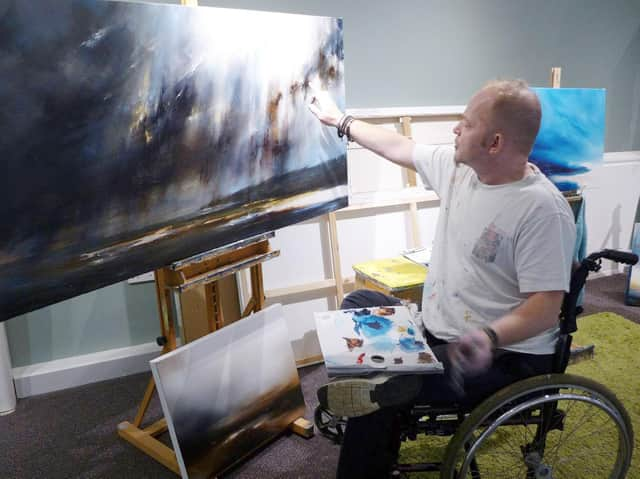 Adrian Wright at work in his studio in the Inspired By.... Gallery
Adrian Wright, the current artist-in-residence for the North York Moors National Park was left devastated after injury forced him to leave the army.
He has since become a renowned painter specialising in dramatic, panoramic oil paintings and until February he is opening up his studio at the gallery for the public to catch an exclusive glimpse of him at work.
The 44-year-old from Glaisdale said: "I was in a very dark place when I was forced to leave the army. Fortunately, whilst in hospital in Germany, my doctor gave me a five pound painting kit from a local supermarket and from then I discovered the joy of painting. By creating art I became better and found much happier times."
Adrian Wright next to his Dark Skies painting
He was later discovered thanks to the efforts of Sally Ann Smith, Inspired by… gallery curator and renowned landscape painter Peter Hicks.
Sally said: "Adrian's work is so unique. His work captures perfectly the moody and dramatic skies of the North York Moors, especially its coast. It has been a privilege to see him thrive and I am so pleased that he is now being recognised. By using oils, acrylics, brushes and palette knives he brings semi abstract, romantic, dramatic scenes to life."
Visitors will be able to come and see the artist every day excluding Monday over the Christmas Holidays, except on Christmas Eve/ Day when the gallery will be shut.
Then from 5 January until 17 February the centre and gallery will only be open on the weekends for a chance to see the artist. Please visit the North York Moors National Park website for details regarding opening times.
Concentrating on the job at hand
For more information or to confirm whether Adrian is in on a particular day please contact The Moors National Park Centre on 01439 772737.
From 28 March – 4 May 2020, he will also be revealing his The Power of the Sea exhibition at the Inspired by… gallery. This will comprise of a series of bold oil paintings depicting the raw power of the raging North Sea and its impact upon our senses.
Speaking on his up-and-coming exhibition, Adrian said: "For me I really wanted to show the strength of nature and how insignificant humans are in comparison.
"There is nowhere else where this is more present than within the sea.
"I want each piece to impose on the viewer, to be filled with strong bold colours whilst still showing the ability of light to break through the storm. Light for me means hope and my own struggles I have had to overcome."
Never deterred to help others, Adrian has also kindly donated his 'Dark Skies' painting valued at £900 towards a raffle, which is raising money for Zoë's Place Baby Hospice.
The charity provides palliative, respite and end-of-life care to babies and infants suffering from life-limiting or life-threatening conditions and is one close to Adrian's heart.
A proportion of the proceeds will also be given to WHISH (Whitby Hidden Impairments Support and Help).
Raffle tickets are already on sale for £1 available from The Moors National Park Centre.
For more information please contact the Centre by calling 01439 772737. The raffle will be drawn on 2 February 2020.
To find out more about his up-and-coming The Power of the Sea exhibition please visit: northyorkmoors.org.uk/inspiredby