Computers and home delivery service on way at North Yorkshire libraries as phased return continues
Libraries in North Yorkshire will continue the phased return of services next week, with sessions on public computers being bookable at some branches and the restart of the Home Library Service.
Wednesday, 8th July 2020, 2:59 pm
Updated
Wednesday, 8th July 2020, 3:02 pm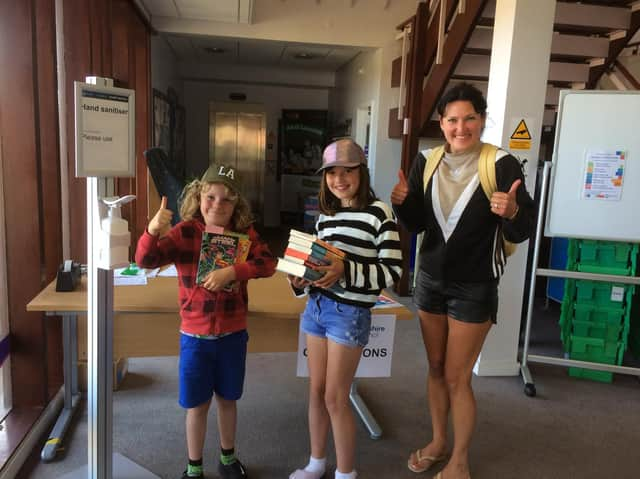 Valentine Long, Winnie Long and mum Kirstie Long pick up their book bundles at Whitby Library.
This follows the successful launch this week of a Select and Collect service, which enables customers to phone or email their library to request the type of books they want, then later collect a selection hand-picked by a member of the library team.
From Monday (July 13) libraries managed by North Yorkshire County Council at Scarborough, Harrogate, Malton, Whitby, Pickering, Filey and Skipton will offer limited access to public computers. Ripon, Selby, Northallerton, Knaresborough and Richmond will follow suit on July 20.
Computers will be placed to allow for two-metre social distancing and will be cleaned between each use.
Computer sessions may be limited to 45 minutes and must be booked by calling or emailing the library in advance.
If people think they may need extra time, they should discuss this with staff.
There will be no cash transactions at this time, so people wanting print-outs can have five A4 copies for free.
Donations for any further copies would be welcomed.
Cllr Greg White, Executive Member for Libraries, said: "We know that many people rely on the computer facilities at libraries, so we want to make them available, where we can.
"Safety of customers, staff and our volunteers are our primary concern, so there won't be as many PCs available and, unfortunately, we won't be able to provide the help that people are used to.
"I am pleased, though, that we are able to offer this reduced service, which is another step towards getting our libraries fully open again."
Newby and Scalby Library is planning to re-open on Monday with some new restrictions in place.
The library will not be open for browsing. Instead, people will be able to choose and reserve books from the online catalogue to pick up.
Alternatively, they will be able to call or email to request the kind of books they like.
A volunteer will hand-pick a selection that meets their request and arrange a convenient time for them to collect the books
Also restarting from July 13 is the Home Library Service.
Before lockdown, the library service was delivering books to more than 1,600 people across the county. All customers have been contacted to make sure they still want to receive the service and volunteers are gearing up to start getting books out to them again.
Cecily Simpson, a home library service volunteer co-ordinator working with Scarborough library, said: "It is a very welcome service for a range of people who are housebound, not necessarily because of their age, and for carers who can't get out to choose their own library books.
Books will be placed on the doorstep rather than carried inside.
Some people who are self-isolating or still shielding, but are not customers of the Home Library Service, may want to receive books at home.
Click here to find out how to sign up, or call your local library.
All library members can continue to take advantage of the free Select and Collect service. They can call or email their local library to request the kind of books they like.
A member of the library team will hand-pick a selection, then contact the customer to arrange a convenient time for them to collect the books from the library entrance.
Books can be borrowed for up to three weeks.
Customers can also use a library takeaway service, which offers specially selected book bundles to borrow.
There is a menu to choose from each week with details on local library Facebook pages.
People can also return books, but have until September 1 to return any items borrowed before lockdown without accruing fines. Returned books are quarantined for three days.
All details and updates can be found on the County Council's website, www.northyorks.gov.uk/CovidLibraries
Alternatively, if people have queries they can call their local library or the library helpline number, 01609 533878.