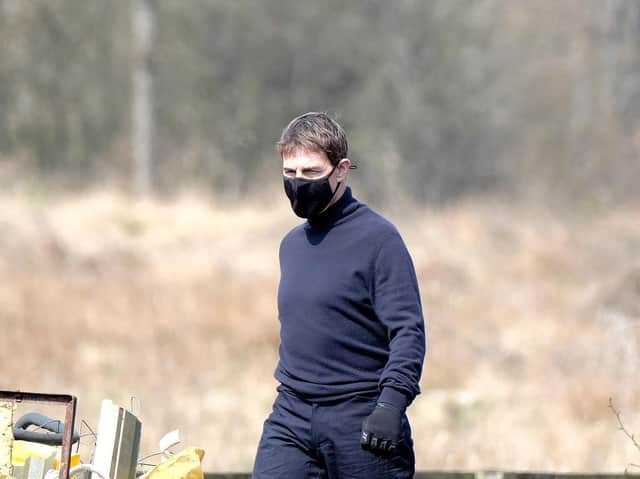 Tom Cruise takes a break from filming Mission Impossible 7 - Photo: Richard Ponter
The Hollywood star has been spotted in Levisham, near the North Yorkshire Moors Railway's station, filming the seventh instalment of the Mission:Impossible movies.
Local leaders and Yorkshire's tourism boss have welcomed the actor's arrival and hope that seeing the beauty of the rural area on the big screen may attract more visitors.
Welcome to Yorkshire Chief Executive James Mason said: "It was fantastic to see international superstar, Tom Cruise filming scenes for Mission: Impossible 7 in Pickering, North Yorkshire this week and commenting on how beautiful the region is.
Tom Cruise with co-star Hayley Atwell - Photo: Richard Ponter
"Yorkshire's breathtaking and spectacular landscape being showcased across the globe, in what will undoubtedly be a huge box office hit, will be a massive boost for tourism, as has already been seen with visitors taking a real interest in the county from screen successes including Harry Potter, Downton Abbey, Victoria, Peaky Blinders, All Creatures Great and Small, and so many more.
"As we emerge from lockdown, the exciting urge to explore these fabulous TV and film locations is more enticing than ever. Instead of jet setting, think of it as set jetting.
"This will also be a real positive, once international travel opens, for Ryedale and Scarborough to attract tourists to these picture-perfect places - countryside and coast - it's a Tom Cruise 'Cocktail' of what the county has to offer and will surely be 'The Firm' favourite for travel in the future."
MP for Malton and Thirsk, Kevin Hollinrake, said he was delighted to hear that Tom Cruise was filming in Levisham.
The cast and crew take a break from filming - photo: Richard Ponter
"I am certain he will get a warm Yorkshire welcome and the film, when it is released, will show the rest of the world just how stunning the North York Moors are, encouraging many more tourists to come to North Yorkshire to find out for themselves," he said.
"It's a lovely place to live and tourists come here in their droves," she said.
"Hopefully when they do come, visitors adhere to Covid-19 restrictions and are sensible but Ryedale is very much about agriculture and tourism and we have to support both."
Preparing to film an action sequence - Photo:Richard Ponter
She added that residents have reported Mr Cruise being friendly.
She added: "I think people tried to keep it quiet that he was filming here but when you're arriving in a helicopter, it's going to cause some attention.
"By all accounts he has been very sociable."
Tourism body Welcome to Yorkshire was sharing the news about the Hollywood actor filming in Ryedale on its social media yesterday.
The Paramount Pictures blockbuster series Mission: Impossible is based on and a follow-on from the television series of the same name by Bruce Geller.
Mr Cruise stars as Ethan Hunt, an agent of the Impossible Missions Force.
The newest film - the seventh installment of the series - is written and directed by Christopher McQuarrie.
As well as Mr Cruise, the film stars Hayley Atwell, Ving Rhames, Henry Czerny, Simon Pegg, Rebecca Ferguson and Vanessa Kirby.
The cast and crew started filming across Europe in early 2020 but production stopped as the pandemic spread across the continent.
Filming resumed several months later including at Warner Bros Studios in Leavesden ,Hertfordshire.
Mission: Impossible 7 was originally planned to be released in July this year but has been pushed back to May 27, 2022. A Mission: Impossible 8 is also in the pipeline.