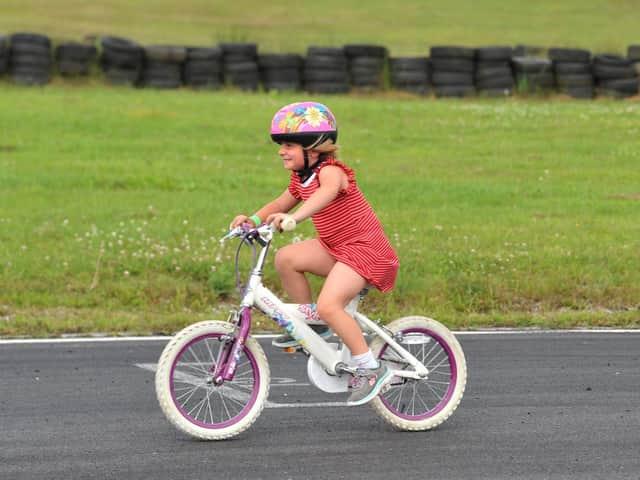 Money has been allocated to create special tracks
The county council has been allocated £133,000, half of the possible maximum available, to finance the continuation of the social distancing measures as part of the emergency active travel fund.
The money is to be used to support walking and cycling as part of the national recovery from the pandemic.
The authority says it is already planning its bid for the second phase, when the larger sum of approximately £1.1 million will be available and is pushing ahead with proposals for multi-million-pound bids through other channels to support walking and cycling.
The money being allocated through the emergency active travel fund is just the first phase of a £2bn five-year sustainable travel package announced by the government.
The county council is also proposing a package of about £75m of improvements to cycling and walking facilities in Harrogate, Scarborough and Selby as part of Transport for the North's post-pandemic economic recovery plan that it will be taking to the Government.
Allan McVeigh, the council's head of Network Strategy, said: "This package of proposals to improve cycling and walking facilities in the Scarborough area is part of our contribution to a wide-ranging request to Government to be made by regional transport body Transport for the North.
"At present, no funding is available for this work.
"It is, though, an ambitious £28m proposal based on our Scarborough Local Cycling and Walking Improvement Plan.
"Having this plan in place puts us in a position to submit funding bids as and when opportunities arise.
"The aim is to improve connections between residential areas and key employment and retail sites.
"Measures proposed include segregated cycle facilities to provide an alternative to the car for short journeys, which are prevalent in southern Scarborough, and will serve key destinations within Scarborough.
"The development of these corridors would support the Scarborough Local Plan and promote sustainable and inclusive growth."
The four corridors identified for cycling improvements include Eastfield to Scarborough, the Eastfield and Cayton central spine, the Scarborough to Whitby Cinder Track connections and the Scarborough central corridor.