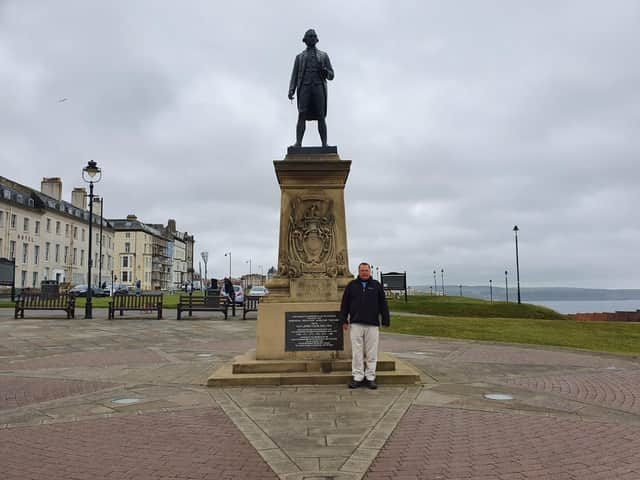 Cllr Joe Plant at the Captain Cook statue in Whitby.
North Yorkshire County Councillor for Whitby Streonshalh, Joe Plant, said tensions are running high and just this morning he discovered graffiti had been sprayed on the Whitby statue's plaque.
"It was hard to tell what it was because it was being cleaned off but it looked like some kind of symbol," he said.
"I think it's disgusting that the plaque has been graffitied.
"Feelings are running very high in Whitby."
He said if moves were made to remove the statue, he would be "fighting tooth and nail" to make sure it stays.
"I stand with Captain James Cook," he said.
He thanked a member of the public who has cleaned the graffiti off.
Concern is also growing that the statue on the West Cliff could be the next monument brought down by anti-racism campaigners.
A Facebook group has been launched - and already has more than 1,000 members - urging for the statue to be protected after tributes to the explorer in other areas were listed on a monument hit list.
A statue of Captain Cook in Great Ayton and the James Cook Memorial Hospital are among those identified on the Topple the Racists website which calls for debate over whether statues should be moved and landmarks re-named.
Fellow North Yorkshire County Councillor David Chance, for Whitby Mayfield-cum-Mulgrave, said: "I would have no problem with it being given due consideration.
"My own personal view is that it should stay.
"It is part of Whitby's heritage."
The listing of Captain Cook's statue on the Topple the Racists website says it should be removed because of the killing of Māori people shortly after Captain Cook's arrival in New Zealand.
The Captain Cook's Protection Alliance Facebook page includes hundreds of comments advocating the statue remains in Whitby.
One reads: "Captain Cook was my childhood hero.
"From the age of eight, I spent hours in Pannett Park Museum learning everything there was to know about him.
"He is part of our National Heritage and I cherish his memory."