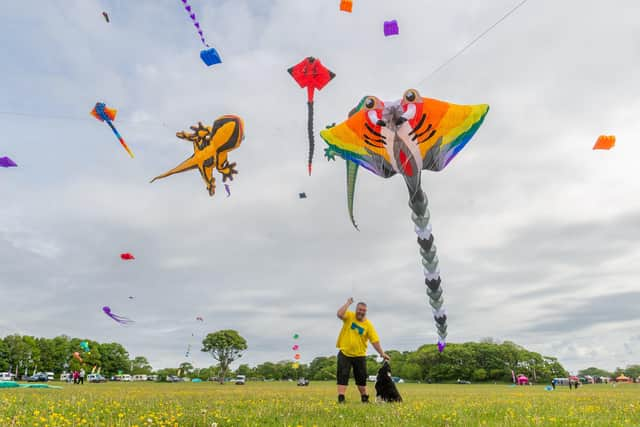 Andrew Beattie, a member of the Northern Kite Group, prepares his kites for the day along with his dog Kate. Photo by James Hardisty
The annual Bridlington Kite Festival returned to its traditional May weekend after being staged in September last year. Kites of all descriptions, sizes and colours took to the air last weekend (Saturday, May 21 and Sunday, May 22) with thousands attending the event.
Organised by the East Riding of Yorkshire Council's events team, along with the Northern Kite Group, the festival returned in all its glory in its usual spot with a full line-up of big, and small, kites, along with street food stalls, fairground rides and children's entertainment.
Andy and Anne De Sadeleer, from Filey, are pictured with their whale kites. Picture by James Hardisty
Craig Harby keeps an eye on his flying gecko kites. Photo by James Hardisty
Scores of exotic inflatables add a splash of colour to the cliff tops. Picture James Hardisty
Ernie Williamson, a member of Northern Kite Group, looks up at his handmade flying killer whales. Photo by James Hardisty
Daryl Smith sends his friendly tiger kites soaring to the sky. Photo by James Hardisty