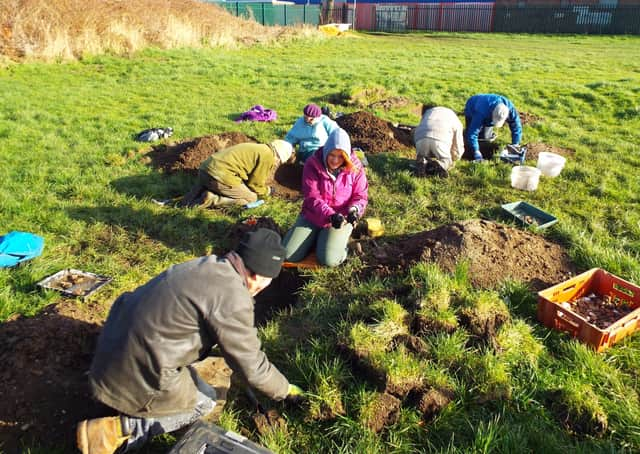 The new exhibition covering the Queensgate dig runs until Monday, March 23.
The dig is in its fourth year with members of Bridlington U3A BUGG (Archaeology, Geology, Church Fabric Group).
The area was once part of 'The Moor', an area of waste land fit for only pastoral farming and small holdings, which owes its origins to the Ice Age, when East Yorkshire was part of 'Doggerland'.
The ice left behind boulder clay which is impermeable, making the area liable to flooding.
Early Mesolithic hunter gatherers were attracted to the site for hunting and left their distinctive stone tools behind, as did the early Neolithic farmers, who also hunted there.
By the Iron Age people may have settled the site, probably with round houses using crude pottery and then later, better Roman pottery from the kilns at Holme on Spalding Moor.
In Medieval times, the influence of the Priory is seen in distinctive pottery which continues into Victorian times, as do clay pipes and stems.
A spokesman said: "The display will be on show until Monday, March 23 and is next to Bridlington Local Studies Library, on the first floor."
Today (Thursday, March 5), local historian and expert Richard Myerscough will give a free talk all about the dig, at 10.30am, in the community area, which is next to the display, just by Bridlington local studies library.