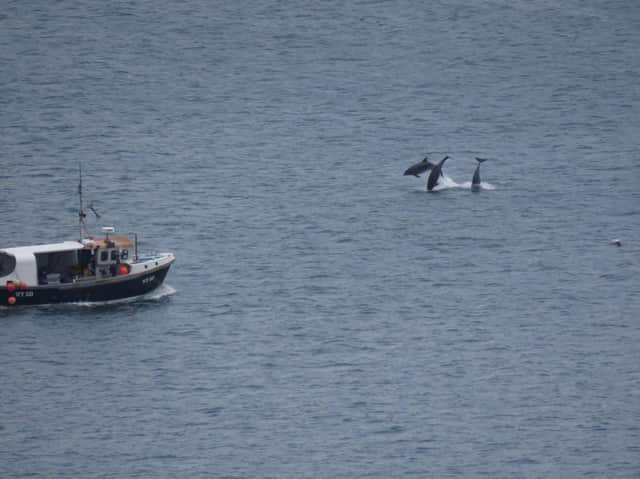 Cleveland Way walker Gail, from Liverpool, photographed the dolphins from the cliffs
The dolphins come from an established population that live in the Moray Firth in Scotland, but over the past two years have been venturing increasingly further south and marine biologists are currently monitoring them to find out why.
They are now a regular sight off the Yorkshire coast and have been spotted feeding off Flamborough Head, in Bridlington Bay and close to Scarborough. They have been recorded as far south as Spurn Point.
On Tuesday evening they delighted onlookers by playing close to Whitby Pier, with one observer saying it was the first time in 50 years of visiting the town that he had seen dolphins.
Marc Gannon also took these incredible images of around 20 of the dolphins from the Cleveland Way footpath between Runswick Bay and Sandsend during the 'all-day dolphin show'.
Crowds gathered close to Whitby Harbour to watch the spectacle and others ventured out to sea in kayaks to get closer to the pod. A video posted on Instagram by Whitby Surf School showed the animals swimming and playing together.
In May, the pod was filmed near Marine Drive in Scarborough.
There were several recorded sightings of the same group last summer, but scientists say a decade ago they were almost never seen in this area of the North Sea.
The pod are from the Moray Firth, near Inverness, but have been exploring the Yorkshire coast for the past two years
The pod includes an adult female who has been known to observation groups based at St Andrews in Scotland since 2003.
The Scottish pod's behaviour has fascinated marine biologists in the past two years. The University of Aberdeen confirmed that the April 2019 sightings in Bridlington Bay were the furthest south animals from the group had ever been recorded at the time.
There are over 130 bottlenose dolphins living in the Moray Firth, and they are the world's most northerly population. They are bigger and fatter than their counterparts elsewhere in the world and have evolved to insulate themselves from the cold North Sea temperatures.
They follow shoals of fish such as mackerel and herring, but the reason for their sudden relocation to Yorkshire is otherwise a mystery and scientists are undertaking a major study to find out more about them.
DIners at harbourside restaurants in Whitby were treated to a 'dolphin show' last night when the pod began playing near the pier
This year sightings began in January and February in areas such as Withernsea and Hornsea, despite volunteer observers being stood down by the Yorkshire Wildlife Trust and Sea Watch Foundation during the lockdown period.
The Yorkshire Wildlife Trust's marine advocacy officer Bex Lynam said that although there would be a gap in the data collected while volunteer activity was forbidden, casual sightings by residents of coastal communities were still being reported.
"They have been seen lots of times this spring, especially in Hornsea and Withernsea. We haven't had many positive IDs because most of the people who have seen them don't have camera equipment that is advanced enough to take clear photos, so we can't say conclusively that they are from Scotland, but we think it is highly likely that they are from the same group.
"It is wonderful to see how far they travel, and although there are more sightings in later summer than in spring, we don't know whether that is because there are more eyes looking out for them or actually more dolphins."
Scientists are studying the dolphins to establish why they are suddenly migrating further south
The monitoring group now believe that the dolphins' presence in Yorkshire is year-round rather than seasonal.
"There have been a lot of sightings from residents rather than volunteers, and they seem to have been using this area more through spring. We think their presence is year-round now, although it peaks in summer.
"Bottlenose dolphins are opportunistic feeders and they are often seen at Flamborough Head, where there is a front where cold water from the north meets warmer water from the south. The conditions are nutrient-rich and there is plenty of plankton, fish and seals, which encourages dolphins and whales. They support the seabird colony as well."
The reasons for the pod leaving Moray Firth are also being explored.
"Marine life is generally under pressure from climate change and disturbance, but we can't say for sure that that is why they are on the move. Our project will build up a picture of their movements. They are a relatively new phenomenon on the Yorkshire coast - five or 10 years ago they were rare, now they are more commonly seen and in time we will understand why.
"We couldn't do surveys during the lockdown, so our work has been delayed and impacted - there will be a lack of data for this spring as there has been a two-month gap in collection."
The Yorkshire Wildlife Trust was also forced to cancel an education course organised for the captains of charter boats who run wildlife watching and fishing trips.
"We had a lot of interest, but I would like to see more skippers getting involved when it is rescheduled. The course is for all sea users - we have had issues with jet skiers in the past and it is about giving wildlife space and preventing disturbances.
"We are very lucky to have them."