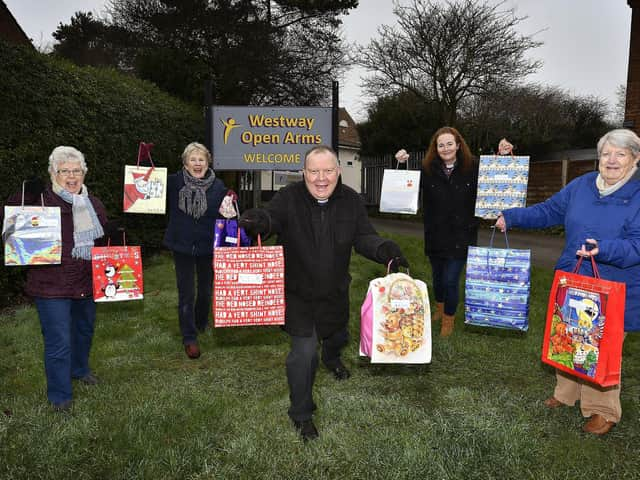 East Ayton church have collected gifts for Eastfield children to hand in at Westway Open Arms. (L-R): Christine Derrington, Angela Adams, Rev Andrew Moreland, Rev Sam Taylor, and Yvonne Quinsey. pic Richard Ponter
In addition to supporting the Westway Open Arms food bank, and despite lockdown and social distancing restrictions, the congregation of St John the Baptist Church and the residents of East Ayton have collected gifts of toys, games, books, chocolates and toiletries.
These have been made into Christmas gift bags and taken to Westway Open Arms to be distributed to children between the ages of two and 15.
Before leaving the church the bags were blessed by the Rev Andrew Moreland and loaded into cars.
Parishioner Christine Derrington said: "My husband counted the bags in the church and there were 64 – although a few more may have been added during the service.
"It's the first year we've done bags. We've always done shoe boxes to go abroad.
"When someone said they weren't doing shoe boxes this year, we decided we would have a change and do something different.
"It's been really pleasing. A lot of people have stayed away from the church due to the pandemic, but we've put a notice on the board and put out a box and it kept getting filled.
"One day three of us, myself, Angela Adams and Yvonne Quinsey went in and sorted it all out.
"There are soft toys, games, toiletries, drawing things, pens and chocolate. Almost all of the bags have selection boxes in.
"We've tried to make it as even as we possibly can. There are four definite age categories two to five, six to nine, 10 to 12 and 13 to 15 and we've tried to put in an appropriate toy for each one. We are thrilled to be supporting Westway Open Arms."
Jan Wells, trustee of Westway Open Arms, said: "We're delighted that East Ayton Church have donated these gifts and they will be given to the children in need in Eastfield in the coming days."