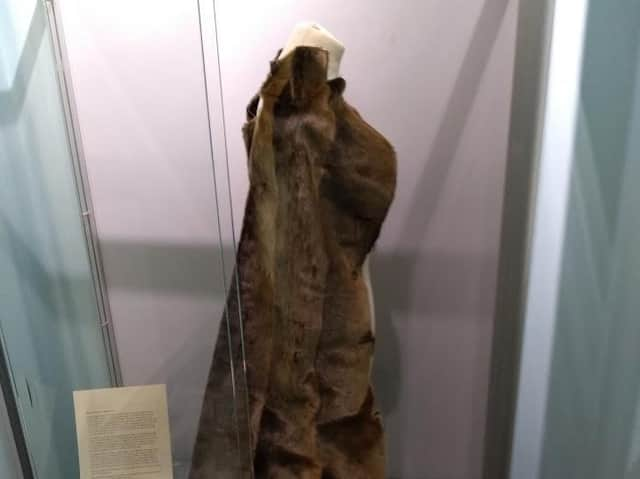 Amy Johnson's fur coat.
Amy Johnson (1903-1941) was the first woman to fly solo from England to Australia - the flight lasted from May 5 to 24, 1930.
It was a remarkable feat for someone whose longest previous flight was about 200 miles.
She did this in a flimsy canvas and wooden Gipsy Moth biplane christened 'Jason' after the Johnson family business.
Amy went on to make a number of other record breaking flights, before joining the Air Transport Auxiliary during World WarTwo, and being killed in action on January 5, 1941.
To commemorate the 90th anniversary of the Australia flight, a video of the story of the flight has been posted on Sewerby Hall's Facebook page.
It can also be seen on the venue's You Tube channel here.
Between now and May 24, there will be a series of posts on Facebook, culminating in the unveiling of an online collection about Amy Johnson, which will be revealed on the anniversary of the final day of the flight.
East Riding Museums are posting up an image each day until May 24 on Instagram, using a significant object from the unique collection of objects related to Amy Johnson at Sewerby Hall and Gardens. Follow on Instagram @south_cave_swords.
Cllr Shaun Horton, portfolio holder for tourism, culture and leisure, said: "In common with all of our sites, Sewerby Hall and Gardens is currently closed, and visitors are unable to see our Amy Johnson displays.
"We wanted to do digital tributes to this extraordinary lady and mark the 90th anniversary of her remarkable achievement. I am delighted that people will be able to relive her flight, and many aspects of her life, online over the coming days and weeks."