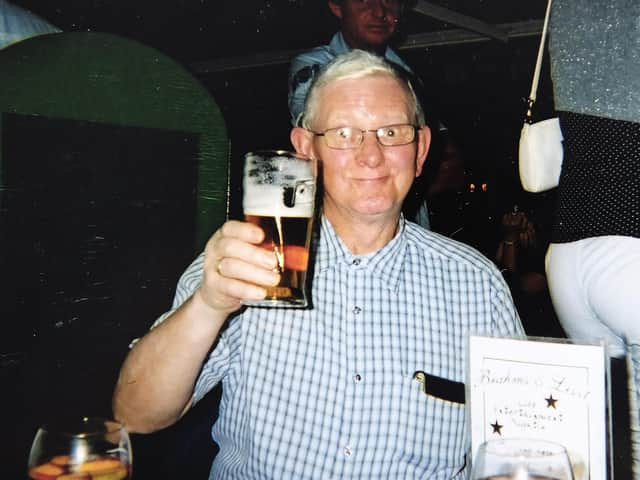 Bob Holmes who has died aged 83
Mr Holmes lived with Anne, his wife of nearly 51 years, in the Gladstone Road area of Scarborough.
Retired from retail – including working at Boyes, Rowntrees, the Co-op and Debenham - Mr Holmes died of heart failure at Scarborough Hospital earlier this month.
"He was a lovely man, a gentle gentleman," said Mrs Holmes. "We did everything together."
Bob Holmes, front right, in Oklahoma with Scarborough Musicals
Mr Holmes was Scarborough born and bred. He met his wife at Scarborough Open Air Theatre - before it was renovated - during a production of The King and I.
He first joined what was Scarborough Amateur Operatic Society in 1961 for Carousel at the Open Air Theatre and had been in virtually every single show since and continued to appear on stage, right up until ill health prevented his being in Scarborough Musicals' final pre-lockdown 9 To 5 two years ago.
Tim Tubbs who directed Mr Holmes in a few shows said: "I first met Bob and his wife Anne years before, when I joined the society in 1978 for concerts, then in productions of Irene and Oklahoma!
"Besides chorus, Bob always took small character roles. I especially remember his Sir Pellinore in Camelot, Dr Grimwig in Oliver! and a doddery drunk in Hairspray.
"He will always be remembered for his quiet kindness, rock-solid reliability, never late, never missed a call, willingness to do anything needed in any show, friendliness with everyone and his unexpected sense of humour, which could crack everyone up with a gentle remark or quip.
"Bob must have been the most senior surviving active member of Scarborough Musicals, with over a half-century of shows under his belt. He will be sadly missed."
Mr Holmes was also a member of singing ensemble Tenor XI which performed concerts at South Cliff Methodist Church.
He and his wife joined Manor Road-based Scarborough Bowls Club when they both retired and played for Monday and Saturday league teams and in the Over-60s leagues.
Club chairman Peter Charter said: "Bob was a longstanding member at Borough Bowling Club and a well established, accomplished, and tenacious bowler.
"He was a proper gentleman who was always a reliable and valued member of any team he joined and will be sadly missed around the Manor Road bowling green."
Mr Holmes was also a supporter of Scarborough Football Club attending games with his wife and they were both members of the Scarborough Corporation Club. He was a one-time chairman of the committee and a member of the fives and threes dominoes team.
Mr Holmes' funeral will be held at Woodlands Crematorium, Scarborough, on Wednesday March 17 at 2.15pm.
Due to Covid restrictions 30 people are allowed into the chapel.