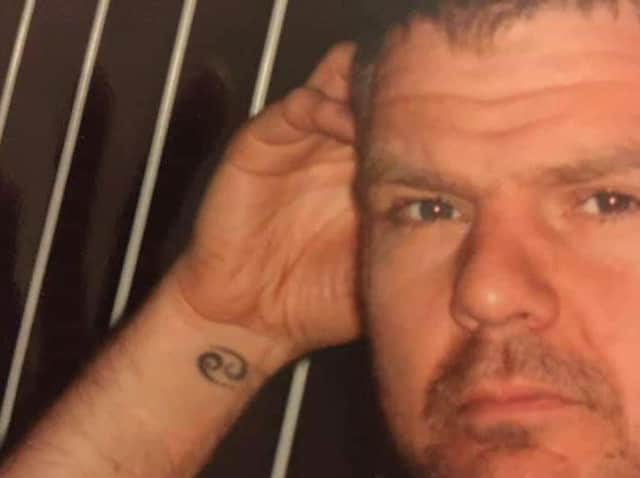 Pete Brown, and the distinctive tattoo on his wrist. Picture from the Brown Family
Natalie Brown, whose husband Pete, 47, was last seen at Cross Lane Hospital in Scarborough on Wednesday May 8, spent Christmas Day with his family and their two children.
Speaking before Christmas, she said: "We are spending family time together which is important, to support each other, but I'd like to fast forward to January and for Pete to turn up.
"The kids have got a puppy for Christmas but I haven't really engaged in it at all this year."
Peter Brown. Picture from the Brown family.
Friends of Natalie and Pete set up a Facebook group, Pete Brown Search & Updates, which hundreds of people have joined to help in the search.
Natalie is also in regular contact with the police. A fundraising page has also been set up by a friend of hers and Pete's, Graeme Lindoe, to raise funds to pay for a mobile advertising van with Pete's information and picture in the New Year.
Natalie described the support she has received since Pete's disappearance as "overwhelming".
She said: "I haven't got enough words to thank those who have given up their time to look for him.
"It is heart warming and it helps keep me going."
Natalie says in the New Year she hopes to get back to some of the social activities she used to enjoy before Pete's disappearance.
She said: "I've told myself I must get back to some of the activities I'd usually do but I just don't have that enjoyment any more. I'm struggling to enjoy life.
"When you've got a loved one missing you struggle to enjoy life.
From left: Jayden, Gracie, Natalie and Pete Brown. Picture from the Brown family.
"I'm just desperate to get this over with and not live like this and have a better year next year. It can't be much worse."
In the seven months since Pete went missing, Natalie says his appearance could have changed dramatically, but she is keen to draw attention to a cancer sign tattoo on his right wrist, his height – 6ft 1in – and size 13 feet, all of which won't have altered.
Anyone with information should contact North Yorkshire Police on 101 and quote reference number 12190083137.