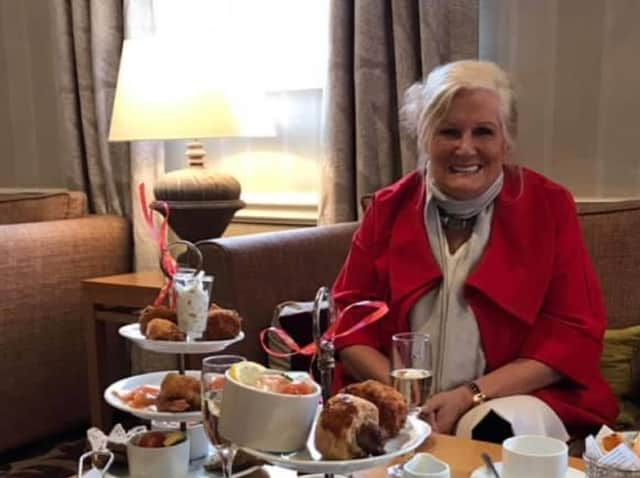 Angela Samples. Picture from the Samples family.
Angela Samples, 74, was well-known in Scarborough as the owner of The Hat Box Boutique and also volunteered as a Special Constable and a healthcare assistant at the former St Mary's Hospital on Dean Road.
Before the pandemic, Angela was in good health and would walk four to five miles a day.
"She was 74 but fit as a fiddle," her son Heath said. "She had no underlying health conditions."
Angela with daughter-in-law Lucy. Picture from the Samples family.
Heath said at the start of the outbreak he had encouraged her to stay inside but she insisted on supporting her friends who were shielding.
"Some of her friends got the 12-week letter and she was running around shopping for them all and obviously got [the virus] out and about. She wouldn't have had it any other way."
Angela was admitted to Scarborough Hospital where she spent 24 days on a ventilator before passing away.
Heath and the rest of the family were unable to visit her.
Heath and Angela Samples. Picture from the Samples family.
"It's one of the cruellest things I've ever been through. You feel so helpless and at a loss.
"I've never experienced trauma like it, not being able to say a final goodbye was beyond the pale."
Heath wanted to thank the NHS staff who cared for his mum, in particular nurses who organised for him and his family to send voice recordings to play to her.
Born in Doncaster in 1945, Angela had two sons, Mark and Heath, in 1965 and 1968 respectively, and moved to Scarborough in 1968 where she first had a farm at Flixton with her husband Barry.
Angela with sons Heath, left, and Mark, right. Picture from the Samples family.
She opened a cafe on Eastborough named Zodiac and worked in Debenhams for many years, then Cearns & Brown as sales manager.
After always dreaming of running her own business, Angela opened The Hat Box Boutique on Bar Street in 1991 where she made and sold hats.
In 1996, after growing the shop into a successful business, Angela and her partner bought the building at the end of Huntriss Row, now Rosh Jewellers, and opened a two-storey shop.
A second location further up the street opened shortly afterwards.
After surviving the 2008 recession, Angela retired in 2015 and sold the shop, spending the following years with her friends and family, including grandchildren Oliver, Elliott and Ella.
She would see Heath and Mark frequently, in particular every Friday at 1pm at the Palm Court Hotel for lunch.
Angela had a generous spirit and dedicated both her time and money to helping others throughout her life. Heath explained that his mum was always donating to charity through The Hat Box by sponsoring events and through her own doing.
"She donated anything and everything she possibly could," he said.
Her voluntary work saw her working as a Special Constable for many years for North Yorkshire Police at Scarborough Police Station and also as an NHS Health Care Assistant at the former St Mary's Hospital on Dean Road.
She supported the homeless and Salvation Army, especially at Christmas time, and was a volunteer at her favourite church, St Mary's, where she helped with the church coffee mornings to help fundraising.
Though funeral arrangements are restricted during the pandemic, Heath and his family are planning a service of remembrance at St Mary's at a future date when restrictions have been lifted.
Rev Graham Taylor, Angela's favourite priest, has also agreed to take part in the celebration.
Angela was well known in Scarborough and Heath and his family have been inundated with cards and flowers since the news of her death.
A post on social media to let people know of the sad news attracted hundreds on comments. "She was so well liked, she'd have been over the moon with the messages.
"I don't want mum to have died in vain, so, however long we need to stay locked down for, let's do it. We need to get rid of this thing properly."
Heath bought the Regal Lady pleasure boat in 2019 and will be dedicating it to his mum, in name and honour, at the official opening, as he converts it to a floating Dunkirk-themed museum.
"Mum was our Regal Lady."