Family pays tribute to caring and supportive mother, Jean Greenan
The family of Jean Greenan, one-time Mayor of the Borough, has paid tribute to their caring and supportive mother.
Monday, 30th March 2020, 11:53 am
Updated
Monday, 30th March 2020, 11:54 am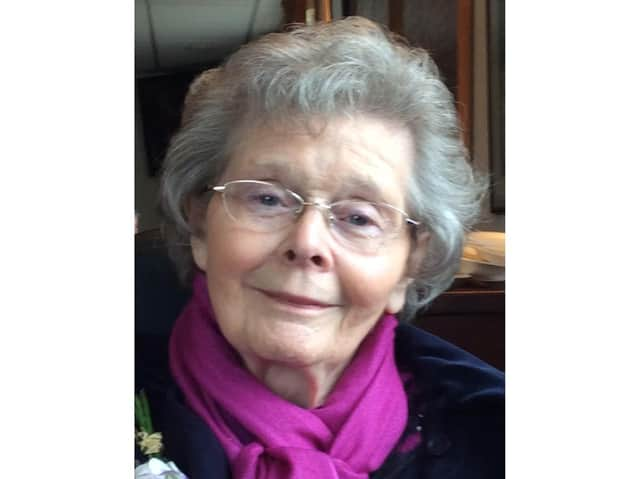 Dr Jean Greenan
Dr Greenan was the daughter of John Smith, a civil engineer, and his wife Elsie, a teacher. She was the younger sister of John Gilchrist.
Jean was born in Tipton, Staffordshire, and spent her childhood in Nelson, Lancashire.
After attending Nelson Grammar School, she went on to study medicine at Birmingham University, graduating in 1952.
She met her late husband Dr Joe Greenan while she was working at Selly Oak Hospital in Birmingham.
Three years after their marriage in 1954, Jean contracted polio - while pregnant with her third child. - and was paralysed from the chest downwards requiring extensive rehabilitation.
In 1961 the couple moved to Scarborough where they raised their five children and continued their medical careers, Joe being a consultant anaesthetist at the hospital.
Jean returned to work as a school medical officer and then became a clinical assistant in ophthalmology at Scarborough Hospital.
Following retirement she served a term as a non-executive director to the Scarborough and NE Healthcare NHS Trust.
She was committed to supporting her local community and served as a magistrate for 25 years.
As an Independent candidate representing the Scalby and Newby Ward she was elected for five consecutive terms as a Scarborough Borough Councillor, covering 18 years of service including a Mayoral year from 1982; in 1996 she was awarded the title of Honorary Alderman of the Borough of Scarborough.
She had a particular interest in town planning and development with rural conservation and was a founding member and recent president of the Scalby Village Trust.
Her belief in the importance of supporting young people and encouraging opportunities for them inspired her to become a governor for Scarborough College, Raincliffe School, St Augustine's School and St George's School.
Throughout her life she had a keen interest in the Girl Guide movement and became Division Commissioner of the Scarborough Girl Guides movement in 1976, going on to be County Commissioner for North Yorkshire from 1982 to 1987.
She carried out her medical and public service roles with enthusiasm, commitment and dedication.
Her Christian faith had a great influence on her throughout her life in both her decision making and roles she undertook.
Above all she was a caring and supportive wife and mother; and an incredible role model for her family.
Despite her significant physical disabilities and developing post-polio syndrome she embraced life, refusing to allow her life to be defined by them.
This determination shone through like a beacon and is an inspiration to those of us fortunate to have known her.
For the past two years of her life she lived at Nightingale Hall care home in Richmond, North Yorkshire.
She died there, very peacefully on March 12.
She is survived by her brother John and her five children Anne, Mary Jo, Sioban, Janet and John.
Because of Covid-19 Jean has been denied a normal funeral. The family hope to hold a memorial service later in the year to celebrate her extraordinary life.