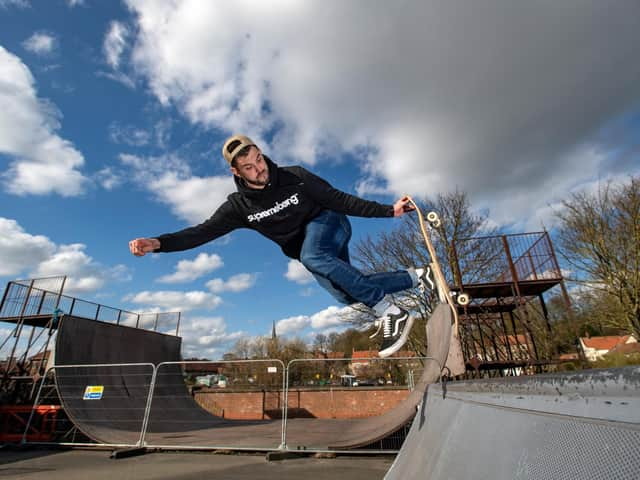 Ryan Swain who is leading a public and community project and campaign to save the halfpipe and skatepark in Malton, North Yorkshire.
Radio presenter Ryan Swain is battling to save what is thought to be the country's largest and only free-to-access half pipe of its stature from being dismantled, amidst fears the council may have to tear it down.
The pipe at the skate park between Norton and Malton has been enjoyed by Mr Swain and countless others in the area since it opened 20 years ago this year, with some keen skateboarders even travelling from elsewhere in the country to use it.
One of the first and biggest full half-pipes in the country, it has been used by many professionals over the years due to its size and accessibility, yet has not been re-panelled since 2002.
Ryan Swain, and Councillor Di Keal, who is leading a public and community project and campaign to save the halfpipe and skatepark in Malton.
But now its future looks uncertain due to the urgent repair works needed, with the council calling it an "ongoing financial liability".
Mr Swain, 35, said the facility was a part of "heritage" which should be enjoyed for years to come.
"It's a bit of a local icon, really," said Mr Swain, who lives in Norton and DJs for York Mix radio station.
"It's not just about preserving the half pipe, the skate park is like a social hub and important for young people's wellbeing.
Professional skateboarder Tony Hawk sent a video message (pictured) backing Mr Swain's campaign to save a skate park's half pipe near Malton.
"Skateboarding is an independent sport and you don't need to be in a group of people to be able to do it. This year will also be the first year to recognise it as a competitive sport in the Olympics, and Britain's athlete for it has also been one of the many to use this half pipe."
Sky Brown, who will be Team GB's youngest athlete to compete in the games in Tokyo this summer at just 12-years-old, is one of the many who have lent their backing to the campaign, Mr Swain said.
He has also received a video message of support from American professional skateboarder Tony Hawk, who has a series of video games based on him, backing the fight.
In the video, Mr Hawk said: "I think we need more public skate parks and if the skate parks are deteriorating we need to fix them up, so the council should be helping you."
Ryan Swain who is leading a public and community project and campaign to save the halfpipe and skatepark in Malton, North Yorkshire.
A spokeswoman for Norton Town Council said that, although there were no plans to close the skate park with a three-year lease having just been renewed, it required "continual investment" which was a "heavy burden" on public finances, describing it as an "ongoing liability".
"Since the management of the skate park was first transferred from Ryedale District Council in 2013, more than £82,000 of public funds has been invested in its ongoing maintenance and improvement," said the spokeswoman.
"Whilst brand new facilities on the present site would be desirable, no external funders are likely to consider a significant investment due to the short-term nature of the lease.
"Essential works to the redundant half pipe facility, one of the largest in the country, are still being considered. It is not safe to use in its present condition.
"Necessary repair works to the half pipe would require a very significant new investment in its own right and Norton Town Council is actively evaluating all such options. This includes whether in the future an alternative permanent site can be found for the skate park where such new investment can be justified in
the long-term – and where the necessary new funding might be obtained from external grant sources."
Support The Yorkshire Post and become a subscriber today. Your subscription will help us to continue to bring quality news to the people of Yorkshire. In return, you'll see fewer ads on site, get free access to our app and receive exclusive members-only offers. Click here to subscribe.