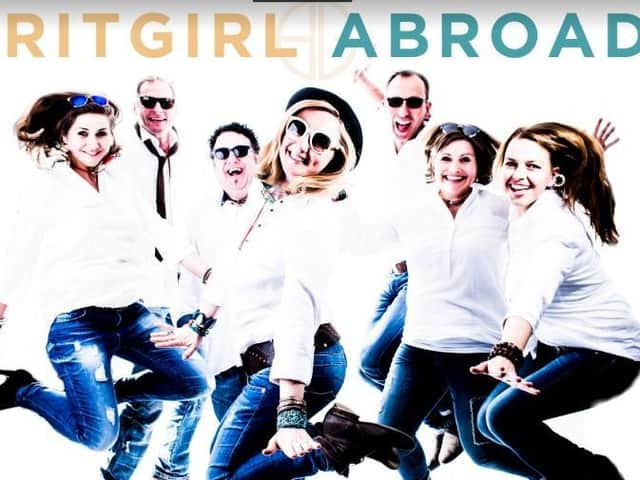 Brit Girl Abroad have written and performed a song about missing Whitby in lockdown - all the way from Germany.
Talented Kate Dowle, who is a huge fan of Whitby, was so sad about missing her planned holiday to the town earlier this year, she wrote a song about looking forward to being able to come here again.
The song, called Me and Captain Cook (The Ukulele Song), mentions how she enjoys the "amazing" views from Cook's vantage point on the West Cliff, the beach huts, fish and chips and more.
Kate said: "The band decided to further their playing skills while locked down so we all ordered a ukulele online, then learnt how to play it and recorded our parts of the song separately and made a video."
Press cutting of the King's praise for the Murfield brothers of Whitby.
You can see a YouTube video of the song, performed by Kate and her band Brit Girl Abroad, who are based in Heidelberg, Germany.
Kate is the great-great niece of five Whitby sailor brothers, the Murfields – praised by the King for their First World War efforts.
Four of the brothers survived a torpedo attack in the Atlantic – their pictures are in the Whitby lifeboat museum on Pier Road.
Kate's grandmother was born at the bottom of the 199 Steps where the Abbey tea room is now and her great grandmother Jinnie Pottas – sister of the Murfield brothers – died just two weeks short of her 100th birthday.
"It's her we used to visit," said Kate.
"I came to Whitby every year since I was a little girl."
Me and Captain Cook (The Ukulele Song)
Hello there, James, upon the West Cliff's edge
With a seagull on your head
You feeling lonely cos there's no-one there?
Empty chairs and empty stairs
One hundred and ninety nine steps
Coloured beach huts, friends in deckchairs
I'd like to eat a Trillo's 99 ice cream running down the side
I'd walk the pier then find the Magpie's line fish and chips just so divine.
Whalebones frame the view
One hundred and ninety nine steps
Salty skin and wind tangled hair