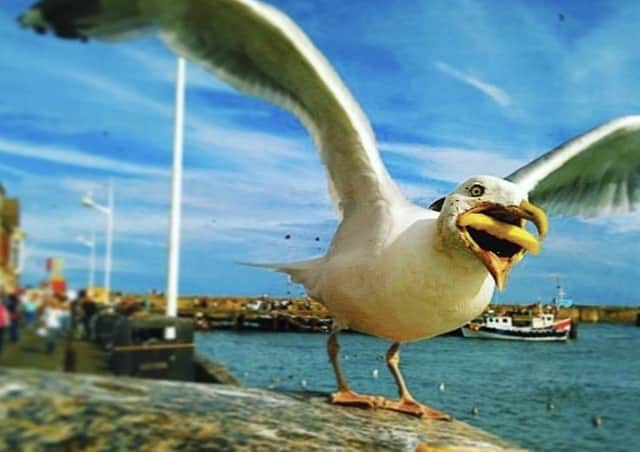 The photograph, which caused a stir a decade ago, was captured on a iPhone 3 while holidaying in Bridlington.
The image, which shows the bird greedily eating a chip on Bridlington's harbour-side, was captured by visitor Hannah Huxford.
It became an internet sensation a decade ago, appearing in local and national newspapers, including, The Daily Express, and was used by The One Show.
The seagull featured as the local BBC weather picture of the day and on the BBC website. The image has also appeared on the front cover of the Edinburgh Fringe Festival brochure.
Hannah Huxford shows off some of the merchandise based on the outstanding seagull photo which was taken at Bridlington.
Hannah captured the photo on her iPhone 3 while feeding the gull with her husband.
In 2017, Hannah decided to use the image to create some merchandise including bags, and postcards but it never really took off.
However, on the photo's 10th anniversary, Hannah placed a post on Instagram to celebrate the occasion and it was spotted by a London design company.
It then asked her if she would like to licence it out to a big tech brand for a national billboard campaign – and she jumped at the opportunity.
Hannah poses in front of a billboard featuring her photograph in Leeds.
This decision has seen the seagull image used on billboards across the UK as part of the Google campaign.
She said: "The campaign is now live and the image is on huge billboards throughout the United Kingdom.
"He has been spotted in Brighton, Brixton, Newcastle, Wigan, Bury, Kent, Cardiff, Swansea and Leeds.
"Not a bad result considering it was taken on an iPhone 3 a decade ago and re-found on Instagram.
"My husband was feeding him the chips and I was snapping away. It was only when we got home I discovered the incredible photograph of a chip half way in his mouth.
"I still feel there is room there to do merchandise with him on, especially now with this new-found fame with Google. I think he would do fantastic in Bridlington. It would be good if tourism shops in the town would stock them."
Hannah is interested to find out the locations of the billboards featuring the photograph. People can share their images of the sites at @dreamwalls (Instagram) and #googleseagull.