Handmade cards from children help Kitty celebrate her 100th birthday in Filey
The Queen has two birthday celebrations a year … and so, this year, will Filey resident Kitty Wright, who reached 100 last week!
Monday, 30th March 2020, 10:55 am
Updated
Monday, 30th March 2020, 10:58 am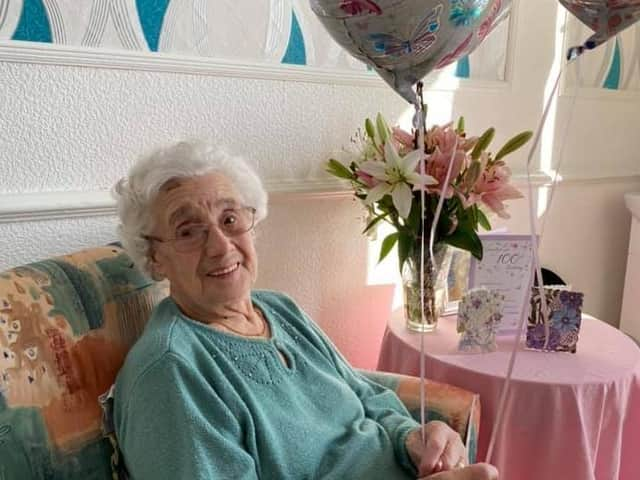 Kitty Wright who turned 100 last week
Kitty celebrated her 100th birthday at The Hylands Retirement Home on Thursday, but with visiting restrictions in place to try to keep coronavirus at bay, there was not the gathering you would normally expect for such a momentous occasion.
A family party had been arranged but had to be postponed until further notice.
Staff at the home, in The Crescent, decorated windows to ensure passers-by knew of Kitty's special day, which drew a lot of attention and led to Kitty receiving a number of handmade cards from local children.
Staff at the home put posters in the window which created interest and local children made cards to celebrate
Deputy manager at the Hylands, Janelle Pickering, said: "We held a quiet celebration and tried to make it as nice as possible. We had a cake and Kitty had a glass of champagne."
Kitty grew up in Scarcroft, Leeds, and worked on the same farm from the age of 19 until she retired 12 years ago and moved to be nearer to her daughter who lives in Hunmanby.
Kitty was delighted to receive her birthday telegram from the Queen. Janelle said: "She will be like the Queen this year and get two celebrations!"
Kitty with her 100th birthday card from the Queen