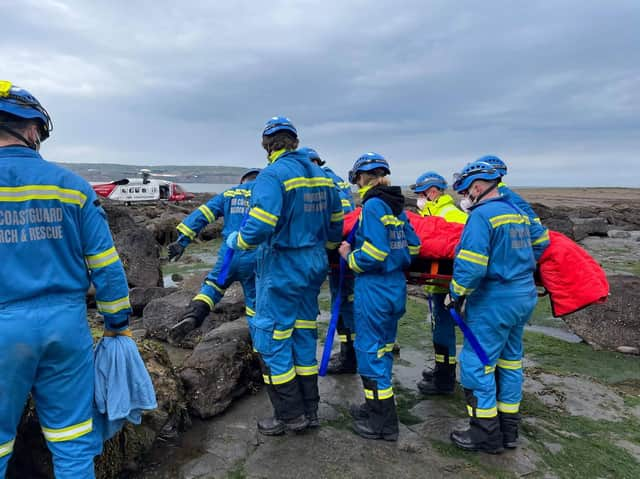 Coastguard crews and the coastguard helicopter helped an injured walker near Scarborough. Photo by Scarborough and Burniston Coastguard Rescue Team
Crews from the coastguard teams at Scarborough and Burniston and Ravenscar were called to help the walker at the base of the cliffs in Ravenscar at 12.22pm on Sunday.
They administered casualty care but, because of the hazardous route back to the top of the cliff, the coastguard helicopter was called to take the walker to safety.
Once it landed, the injured person was handed over to paramedics and taken to hospital in an ambulance.
Scarborough and Burniston Coastguard Rescue Team posted on social media to say it had received a message from the walker thanking everyone for their hard work.
It said: "A big thank you to all who attended to me on Ravenscar beach yesterday.
"The speed and level of service was second-to-none.
"It's reassuring to know when one has a remote accident you are there in a flash. Thank you again and keep up the good work."
If you see anyone in danger on the coast, dial 999 and ask for the coastguard.