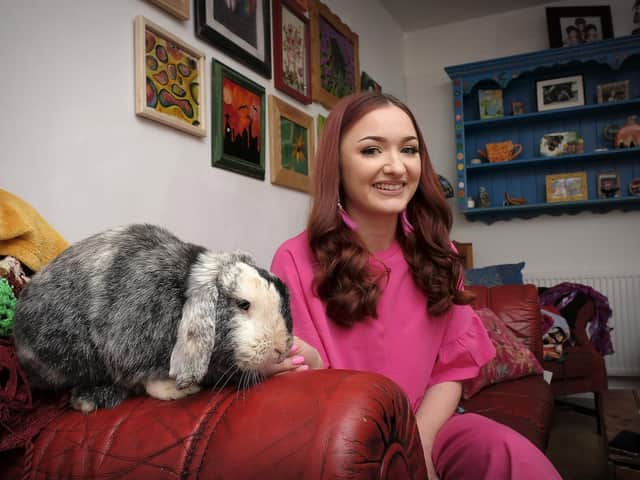 Henry with owner Cienna Keld - pic: Richard Ponter
Six weeks ago we launched a competition to find the Top Pet in Scarborough.
After dozens of entries and hundreds of votes the winner of the competition has finally been revealed as Henry the Harlequin rabbit, owned by Cienna Keld, with a massive 38.6% of the vote.
Henry beat off strong competition from energetic pup Penny who took 24.3% of the vote to finish in second place.
Posing for the camera - pic: Richard Ponter
Cienna, 17, bought Henry from Falsgrave Pet Shop in January 2020 when he was just four months old.
She initially went into the shop just to buy hay, but after the lady in the shop offered to let her hold him, she immediately fell in love with Henry's attractive looks and begged her mother to let her have him.
Since being taken back to the family's house on Sandybed, Henry has made himself right at home, and rather than sleeping outside with the family's 12 other rabbits, he sleeps indoors, having his own dog (rabbit) bed and litter tray.
Henry even runs up to Cienna's room in a morning and scratches at her bedroom door to let himself in.
Cienna has had Henry since he was four months old - pic: Richard Ponter
She said: "He wasn't supposed to be a house rabbit, he's more like a dog.
"He's nothing like I've ever had before, but having him inside definitely made our lockdown better."
There's no star treatment for Henry though; Cienna said she spoils all her rabbits equally: "I make each of them a bunny friendly birthday cake, where I blend up nuggets, bananas and fruit and bake it in the oven until it's like a biscuit, they all have some and they love it!"
Henry wins a £50 voucher to go with the prestigious title.
Henry is one of a number of rabbits Cienna owns