How Barrowcliff is carrying on teaching as part of a nationwide hub of schools
Barrowcliff  is part of a nationwide network of schools ensuring that key  workers can carry on knowing their children are cared for.
Wednesday, 6th May 2020, 9:37 am
Updated
Wednesday, 6th May 2020, 9:38 am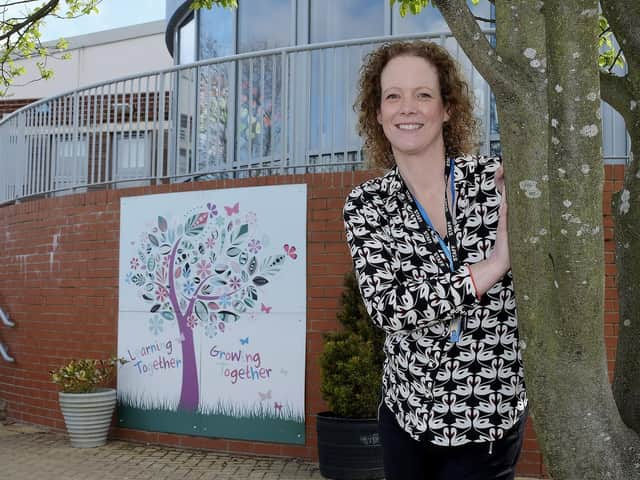 Deputy headteacher Lucy Brazier
The school in Ash Grove has remained opened during the week from the start of the lockdown to cater for the 300-plus pupils who normally attend it.
For the past weeks it has been taking youngsters of NHS and other frontline staff during the week and also at weekends and bank holidays.
It is what is known as a hub school set up by the local authority across North Yorkshire – including Whitby and Ryedale.
Four-year-old Evie's mum is a care worker
"We wanted to do this as a school, to stay open and allow people who work weekends to have provision," said deputy headteacher Lucy Brazier.
Barrowcliff caters for children aged from three to 11. Up to a dozen of children are arriving on site each day.
As well as literacy, maths and science, the youngsters are doing activities including gardening, painting and baking.
Two of the children have mums whose work is essential. Seven-year-old Harvey;s mum Emma works in a pharmacy and four-year-old Evie's mum Tiana works in a care home.
Seven-year-old Harvey's mum works at a pharmacy
"I am very proud of my mum," said Harvey who has especially enjoyed baking chocolate chip cookies.
"My mummy is a key worker," said Evie. "She looks after poorly people, makes them happy, makes them cups of tea and sits when them," she said.
Both Harvey and Evie are well-schooled in the importance of social distancing - that is keeping two metres apart – and washing their hands.
"We are not in a position to wear full personal protective equipment, it would frighten the children and it is not appropriate," said Mrs Brazier.
"That is why social distancing is si important – to protect our staff and the children," she said.
"We spend a lot of time modelling how to keep social distance and reminding the children to wash their hands regularly and we clean surfaces regularly."
Only three classroom and one toilet block is open.
"We are trying as much as we can to limit risk and to keep everybody as safe as we can," said Mrs Brazier.
The questions the children ask most are: when will we get back to normal and when will I see my friends.
"Children accept things as they are, they live in the moment more than adults do," said Mrs Brazier.
The majority of children who attend Barrowcliff are now being schooled through technology at home.
Teachers have a special app which allows them to keep in touch with parents and post photographs.
Class teachers also call their pupils once a week.
Teachers are also reading stories for their classes on line.
The school is open for parents/guardians to collect resources such as books and pencils.
"People go into education because they want to help, they want to see children grow and develop. This is just part of it but in a different way," said Mrs Brazier.
"It is a lot of pastoral care at the moment: making sure that, yes, the children are keeping up with the educational side anddoing home learning that teachers are putting on the websites.
"But it is also keeping routines going and making sure their basic skills are kept sharp because one day all this will be over and there will be children who have missed a huge propotion of the school year," she said.
"School is not just about the lessons, it is so much more than than that. It is being about a community, learning how to socialise, to follow the rules.
"We want to keep that going for as many of the children as we can," she said.
Headteacher Mark Rogers and Mrs Brazier also go out into the community including doing a walk-round once a day.
When North Yorkshire County Council first asked for volunteers for the hubs, the call out was answered by staff from Barrowcliff.
"We want to say a huge thanks to all our staff. We are really proud of and grateful to all our staff who are either busy at home doing learning packs or here: everyone is working really hard," said Mrs Brazier.
The school hubs in are area are:
Malton Community Primary School - all children aged 0 to 12
Scarborough and Whitby area
Whitby, Airy Hill Community Primary School - all children aged 0 to 12
Barrowcliff School, Scarborough - children attending school aged four to 12
Childhaven Day Nursery, Scarborough - pre-school children aged 0 to four
Kinder Place, Scarborough - pre-school children aged 0 to four.