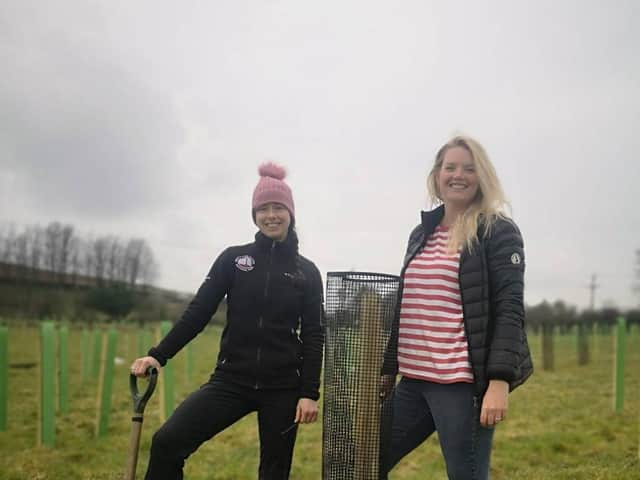 Emily Watson and Laura Barr from the North York Moors National Park Authority, supporting a landowner to plant new trees.
On 8 February the Ryevitalise team, from the North York Moors National Park Authority, is aiming to plant 800 trees at a local farm in Bilsdale along the banks of the river Seph and are inviting more people to get involved.
The team will be carrying out the work as part of their Habitat Restoration and Water Quality project, which is one part of the larger Ryevitalise Landscape Partnership Scheme supported by The National Lottery Heritage Fund, North York Moors National Park Authority and other partners.
Ryevitalise Programme Manager Alexandra Cripps said: "Trees are magnificent in their own right, providing important habitats for a wide range of flora and fauna including species such as the rare alcathoe bat, but they also play a vital role in improving water quality and acting as a carbon sink.
"We are all aware of the need to conserve our fragile environment and to do our bit to help tackle the climate crisis.
"By joining our dedicated team on the tree planting day you can make a real difference and be part of this exciting project to give something back to our precious landscape."
The planting of these trees along the river will help stabilise the river's banks via their extensive root systems and good canopy cover, as well as filtering runoff from the surrounding landscape.
Preventing sediment and nutrient inputs into the river will improve water quality, create a more naturally functioning river and help restore aquatic habitats.
The event will be taking place from 10am to 1pm on February 8 with everyone meeting at Chop Gate Village Hall Car Park (TS9 7JW) where one of the team will be on hand to welcome you and show you to the planting site.
Tools and equipment will be provided. Wear suitable outdoor clothing including sturdy boots.
This is a drop-in event so there is no need to book but to learn more, email [email protected] or contact the Ryevitalise team on 01439 772700.