How the veterans' garden grows in Scarborough
Digging and planting for enjoyment is what veterans of all ages are doing in a garden at Stepney Hill Farm in Scarborough.
Thursday, 9th July 2020, 12:30 pm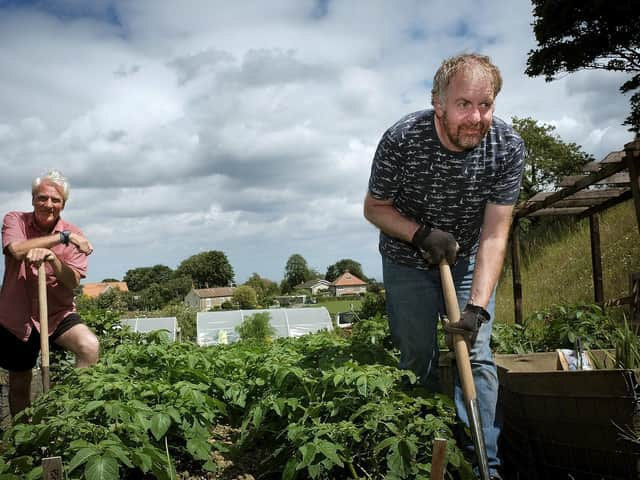 Alan and Paul work in the garden
The plot was donated by owner of the farm Ashley Tyson t0 Scarborough-based First Light Trust, a charity which helps former service personnel.
It has been worked on for seven years and last year won a second place in the Muck and Magic garden awards.
"Gardening has a huge therapeutic benefit," said Tansey Sutton from First Light, based in Newborough.
"It is about building self worth, self esteem, learning new skills, having fun, having ideas and seeing those ideas come to fruition," she said.
The veterans who work on it include a 38-year-old former Merchant Navy man and an ex serviceman with dementia.
"Some have complex needs including suffering from depression or post-traumatic stress disorder," said Tansey.
Older veterans are trying to cope with loneliness and vulnerability.
"Working on the garden helps combat all those things."
The garden includes flowers, a vegetable patch and a pond. A bench, donated by MKM Building Supplies in Scarborough, dedicated to ex-serviceman Charles Reeve is one of the most recent additions.
Mundaka, a tree care company, has also donated wood chip to create the area around the bench and pond.
"They all deserve a huge thank you for supporting us and making the garden possible," said Tansey.
Estate agent Sue Tipple, who lives in Scalby, is one of the volunteers who joins the veterans at the site each Tuesday.
Social distancing measures are in place at present.
"First Light Trust ias an amazing charity. I am an enthusiastic gardener and enjoy sharing that enthusiasm," she said.
"It is a happy place to be. I like to think I am giving something back to those who served our country," said Sue.
"The veterans het so much out of the garden: achievable goals, the satisfaction of creating something that is useful."
They donate produce from the allotment and polytunnels to the First Light cafe and surplus to the Stepney Hill Farm shop.
"They do not need to be keen gardeners, this is for all veterans who want to come along," said Sue.
"It is a joy to be a part of it."
Help has come from Sheila Johnson, who organisers Muck and Magic garden awards and Roger Burnett, of Scarborough Council.
"I call them the dynamic duo." said Sue.