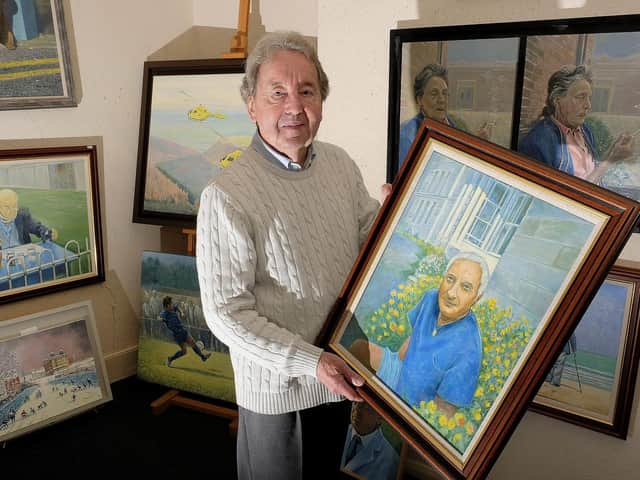 Alan Stuttle with some of his work.
After all, painting was, and to this date still is, a major part of his life which he's been cultivating since he was five.
"I always liked art, I always liked to make things and cut out little designs and patterns, horses and animals... a teacher said to me once 'you're really good at doing this Alan, you're a little genius'."
But after graduating from the Royal College of Arts in London and returning to his native Cheshire to teach, the upcoming artist quickly realised it was hard to earn a living and moved to America to learn "how to make money out of something you love doing". Australia, New Zealand, Italy, Germany and Switzerland are just a few of the countries Alan visited and worked in after coming back from the United States and before opening the art gallery on North Marine Road that most people in Scarborough will know him for, in 1988.
Alan Stuttle painting in York when he'd just started out.
"We used to come on holiday to Scarborough when the kids were young and there were places that were so cheap that we decided to buy a little gallery here."
At the time, Alan also ran a gallery in York and would travel to Scarborough only a few times a week. His decision to swap his busy life in the city for a quieter one on the coast came after the tragic death of his daughter Caroline, aged only 19, in 2002.
"When Caroline was murdered I needed to get away and I sold the gallery in York. She was backpacking in Australia when she was thrown off a bridge by a drug addict."
Despite the devastating hurt caused by Caroline's murder, which inspired her brother Richard to launch the Caroline's Rainbow Foundation to promote safe travel, Alan was determined to carry on with his life and continue painting.
Alan's gallery on North Marine Road.
Thinking back to that tragic incident, he said: "It makes you appreciate life more, appreciate the opportunities we got to make things and do things. It's no good thinking if only, you've got to think positive."
In his four-storey gallery, Alan keeps some of the hundreds, if not thousands, of paintings, in oils and watercolours, and limited edition prints he produced over the years. While some are for sale, others belong to him.
A good part of them show Scarborough in all its glory - the beauty of its natural landscapes and iconic Victorian buildings. Some portray interesting characters that Alan's met along the way and people, such as a gentleman named Henry, who left a mark.
"I was in Chester in 1972 and I met this chap who used to busk for a living. Every time I drew him I'd give him a fiver and he said to me 'Alan don't give me a fiver, give me a pound. That's all I need, just give people what they need'."
Henry of Chester, Alan's favourite painting.
Henry's portrait, called 'Henry of Chester', is Alan's favourite. "He was a remarkable man, I learned a lot from him."
Other paintings catching the eye include that of a burglar who broke into his property three years ago, which he sarcastically called 'Having a smashing time', and those of local veterans and ordinary folk who shared their stories with him.
"I like people, I like what people put into their lives, the creativity. There's some fantastically creative people in Scarborough, we're very lucky, and you can see them just walking up the street."
On April 1 Alan will turn 81 but he's still going strong. He paints every day, teaches occasionally and supports the Richard and Caroline Painting Fund which he set up to help art students develop their talent.
"It's easy to retire, but I'd get bored. I'm only 80."
His gallery, open to customers and visitors alike, has been a Scarborough institution for 32 years.
"It's fantastic how it's kept going, we're never short of business."