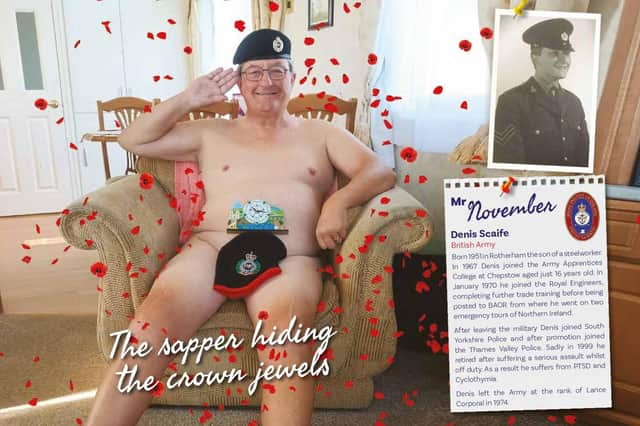 IN PICTURES: Here are 13 photos from the Bridlington Veterans 'Privates on Parade' fundraising calendar
Here is a selection of photos from the 'Privates on Parade' calendar, which features a number of Bridlington veterans 'going commando' to raise money for Parkinson's UK.
Published 9th Nov 2023, 15:25 GMT
Updated 9th Nov 2023, 15:25 GMT
A group of Bridlington veterans have joined forces to raise money for Parkinson's UK, raising a few eyebrows and smiles with their efforts.
Plucky members of the Bridlington Veterans Coffee Morning group have posed naked for a charity calendar, raising over £3500 for Parkinson's UK. The group were inspired to undress as two of them are living with the neurological condition.
Around 153,000 people in the UK have Parkinson's, including 11,000 across Yorkshire and the Humber. Parkinson's UK is the leading charity supporting those with the condition. Its mission is to find a cure and improve life for everyone affected by Parkinson's through pioneering research, information, support and campaigning.
Mike Rubery, also known as Mr October, said: "The calendar was my wife's idea and as two of our members – Ray Francis MBE and Roy Muckart – have Parkinson's, we decided Parkinson's UK was a charity we'd like to support.
"Some of the veterans were really keen, some overly so. None more so than Ray, who served with the Royal Signals for 23 years. He was recently diagnosed with Parkinson's and posed as Mr December to prove that although it can be debilitating, you can still be an active part of the community.
"Things shaped up quickly. The fun and laughter we had planning the shots was worth the effort alone. Funding from local businesses and support from the community has been phenomenal, too. We hope everyone enjoys having a giggle at our exploits."
Ray Francis MBE, Mr December, said: "The veterans clubs have given me a reason to get up in the morning and something to look forward to each week. I fully recommend any veteran to come to the coffee mornings and the breakfast club. It's great banter and you make lots of new friends."
The photographs were taken by Ian Ellis at the Victoria Mill Tea Rooms in Bridlington. Owners Maxine and Russ support the group every Thursday and throughout the year.