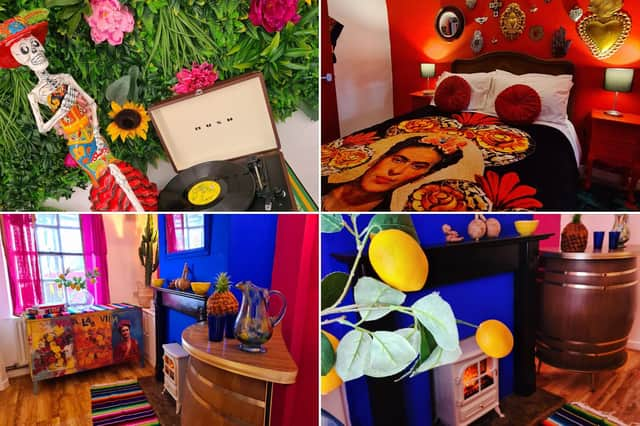 IN PICTURES: take a look inside this Mexico-themed cottage in heart of Whitby
A brightly decorated new cottage is to open in the heart of Whitby, themed around Mexican crafts, art and Mexican artist Frida Kahlo.
Published 1st Aug 2023, 15:21 GMT
Updated 1st Aug 2023, 15:45 GMT
Property owner Fiona said on a personal level it seemed obvious that the 200-year-old building in Skinner Street should have a Mexican theme.
"My daughter and I have been lucky enough to visit several states in Mexico," she said.
"The artwork and local crafts, particularly in Oaxaca, have always interested us.
"We've always tried to learn something new when visiting.
"A lot of it came home with us and has been used to decorate the cottage – from hand-made bowls caught at the Guelaguetza festival (they're literally thrown into the crowd along with pineapples) to murals we've painted ourselves.
"We've tried to incorporate a mix of authentic and creative."
Fiona said she wanted to combine the sense of a warm Whitby welcome combined with an inviting, colourful accommodation option here.
"This part of the Yorkshire coast has a lot of creative history in art and literature which continues now, so seemed a great place for Frida's Cottage Whitby," she said.
"Frida Kahlo's life and art resonates with a lot of people including myself so incorporating her artwork as well as often thinking 'what would Frida do?' was the direction we went with little touches.
"This includes things like a record player, art supplies, floral head dresses and making an indoor garden room with view of Whitby Abbey.
"Hopefully we've created a thoughtful experience."