John calls it a day with coastguard after 41 years
Coastguard John Haxby is leaving the volunteer rescue service after 41 years – and follows his brother Martin into retirement.
Wednesday, 6th May 2020, 2:54 pm
Updated
Wednesday, 6th May 2020, 2:55 pm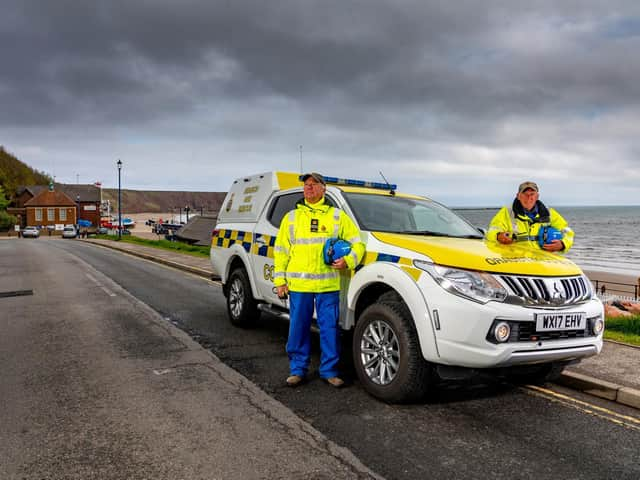 Brothers Martin and John Haxby of Filey have kept their family tradition between them going as coastguards
Between them the siblings served for more than 80 years as members of HM Coastguard, Filey.
They both followed their father Ron into the Filey team and between them the three men clocked up more than 120 years of service.
"We grew up spending hours on Filey Brigg, fishing and exploring the rock pools. My father was a member of the coastguard, so it seemed a natural progression," said John, who has served as a Filey Town councillor for more than 35 years.
As a boy he was also a climmer – that was he was sent many feet over a cliff in a harness to collect birds' eggs.
John was born and bred in Filey and has always lived within five minutes' walk of the sea and cliffs.
In his 40 years as a member of the coastguard he has taken part in more than 3,000 jobs – some of them traumatic.
"You have to have a defence mechanism and mine is once I come home is to forget it," said John, who retires from the post of station officer.
"It does have its rewards – seeing a family's face when you reunite a lost child with its parents or rescuing a dog from the cliffs," he said.
He praised the team for its professionalism, dedication and friendship.
"When you are hanging from a cliff from a piece of rope your life is literally in their hands. You have to have trust and mutual respect and Filey has that. It has always been an excellent team and will continue to be so."
John also thanked his wife Anne for her support.
"My bleeper has gone off at all hours. She never knew where I was going, what I was going to be asked to do when I got there or when I would
be back. I have run out of restaurants and left in the middle of Sunday dinner and she never complained."
John was an environment protection officer working for the Environment Agency and its predecessors for 35 years – ensuring the rivers of North Yorkshire including the Derwent andEsk were kept clean.
He was made a MBE in 1999 for, among other things, services to the environment.
He said he would encourage any young person to join HM Coastguard. "There is a sense of adventure, friendship and the training in things like cliff and mud rescue. You are doing something for the community and it is nice to be able to do that," said John.