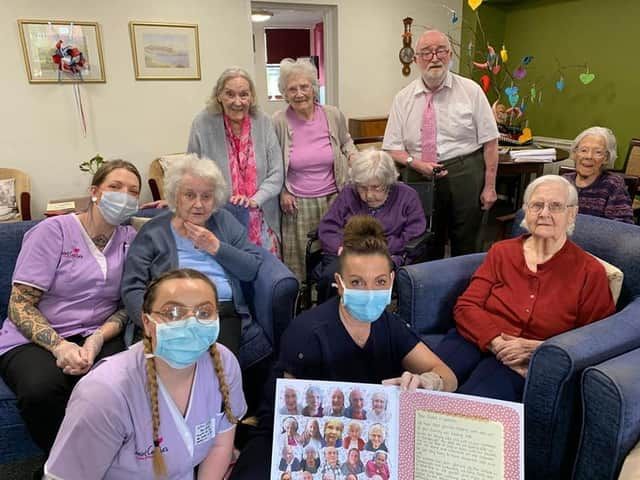 Residents and staff at Normanby House
WIth the help of activity coordinator Trudie Hewitt, they sent a collage of photographs and a message telling the Queen about Scarborough and wishing her well.
They also tell her about the weather and keeping in touch with their families.
"We didn't hear anything for a while and then her letter arrived out of the blue," said Joanna Chadwick, deputy manager of the assisted living home in Belgrave Crescent Scarborough.
"They all admire the Queen and were thrilled when her letter arrived," she said. "It is a personalised reply," she said.
The residents wrote: Dear Queen Elizabeth, We hope you are keeping well and all of your family are keeping safe.
"We are all keeping safe at our care home in Scarborough. The staff are looking after us and we able to keep in touch with our families over the phone and video callouts on the computer.
"We feel very lucky to have remained safe and well.
"The weather has been glorious in Scarborough and fortunately we have been able to spend time in the garden and enjoy it.
"We have also been watching lots of good things on Netflix on the television. We like films. We particularly enjoyed watching the Crown.
"We admire you tremendously and it would make our day to receive a reply to our letter.
"We do appreciate you may be terribly busy."
The Queen's letter, signed by her Lady in Waiting reads:
"The Queen wishes me to thank you for your card, with which you included splendid photographs of yourself for her Majesty to see, and for your kind message.
"The Queen was glad to hear from you and pleased to know you have been keeping safe and well during the current situation.
"Her Majesty is most grateful for the warm sentiments you expressed and sends her good wishes to you all.
"I am to thank you, very much, for your thought for the Queen at this time which is greatly appreciated."
Like all care homes, Normanby House has been running in accordance with government guide lines on Covid19.
"We have been lucky that we have remained virus free," said Joanna.
Two visitors are allowed by appointment and they meet residents in the garden.
A new smart TV has been brought in and the residents have particularly enjoyed watching Netflix - especially The Crown.